Your employees could have an exciting job, an out-of-this-world boss and incredible health benefits and still dread going into work every day because your office is aesthetically unappealing. When you're spending 5 days a week, 8 hours a day (sometimes even more) in one place, the last thing you want to do is stare at bland white walls and rows of uniform cubes all day long.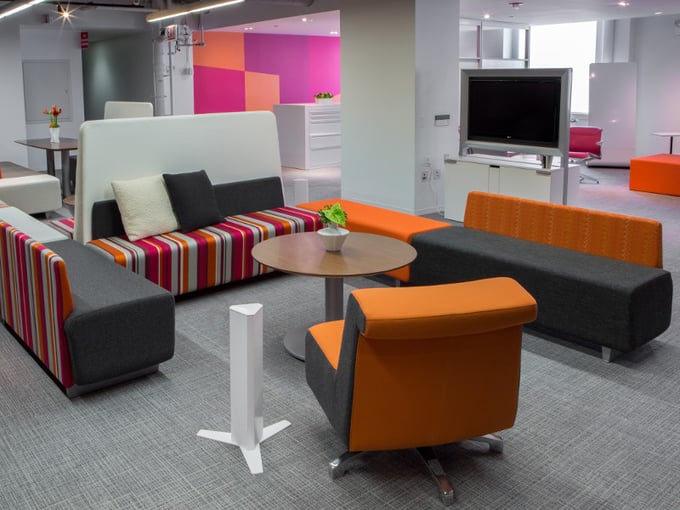 Your office space can have a huge impact on company culture and employee productivity. So, if something as simple as office decor is going to affect employee satisfaction and your bottom line, there's really no reason not to explore some new design options.


A Home Away from Home
When they're not out to lunch or meeting in a conference room, your employees are spending nearly all their time at one desk or in one cube. If their only desk accessories are a stapler and a tape dispenser, how can you expect them to feel inspired when working at their desk?
Let your employees know it's ok to bring personal items into the workplace. Encourage them to decorate their space and make it their own. Personal artifacts humanize the office and make your office feel like a home away from home. Your employees can show off photos of their significant others, children or pets and connect with their coworkers over similar interests. And, when they reach that 3 o'clock lull in the afternoon, seeing a friendly and familiar face can be just what they need to power through the rest of the day!


Don't Be Afraid of Color
Research has shown that colors can impact mood. Repainting your office is a quick and easy way to inject some personality into your workplace. You could paint an accent wall, incorporate colored or patterned rugs or carpets, or choose fabrics or upholstery that matches your overall color scheme while adding some flair to the workplace.
Do your due diligence and choose a color scheme that will help keep your employees focused and motivated. Make sure all of your decorations complement each other to create a professional, cohesive design.


Think Outside the Cube(icle)
Traditional cubicles serve as barriers to collaboration and limit creative discussion and brainstorming. Consider designing an open concept office or selecting movable walls so that your employees can interact and bounce ideas off one another.


Comfort is Key
Your employees can work effectively without being confined to a stiff office chair all day. Make sure your office chairs, couches, stools, etc. are comfortable and inviting for optimal focus. Don't feel like you need to stick to traditional office furniture. Bean bags, exercise ball chairs and other unconventional seating will encourage employees to work where they feel most comfortable, boosting productivity and employee morale.
The right office furniture for your office will depend on your industry and the image you want to convey. Remember to express your company's personality and always consider your employees' comfort.


Accommodate Diverse Personalities
Give your employees the freedom to work wherever they want by providing a range of workspaces. Creating a variety of work areas will help you accommodate the diverse work styles and personalities of your employees. Make sure you incorporate conference rooms for scheduled meetings, lounge spaces for impromptu meetings and private work areas where introverted employees can concentrate and step away from the main work area.
If you have the space and budget, consider including a cafe zone where employees can chat and refuel. Also, it's important to have an established break room where employees can relax and step away from work for a bit.


Let your company's personality shine. These design tips will help you create a thriving workplace that employees cannot wait to show up to.