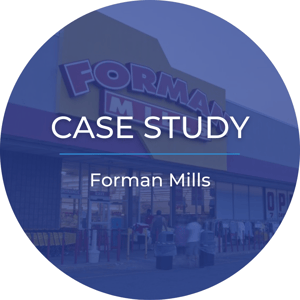 Industry: Retail
Challenges:
Inconsistent fulfillment and facilitation by previous vendor
Lack of cost reduction opportunities with previous vendor
Poor communication with previous vendor
Solution:
Improved Efficiencies
Cost Reduction Strategy
Dedicated Team


(Click here to view and download the PDF version of this case study.)
Overview
Forman Mills is a fast-growing, multi-location, multi-state retailer in the off-price apparel sector. Dissatisfied with their previous vendor, they came to Office Basics because they needed help with fulfillment and costs.
Office Basics devised a solution to improve efficiencies with fulfillment and procurement. We became the strategic partner Forman Mills was looking for to continuously seek ways to optimize efficiency and reduce costs. Even more, we became teammates.
Challenge
Forman Mills was experiencing fulfillment challenges with their vendor. Backorders to their 45 stores were ranging 2 - 6 weeks. In addition, product costs were rising without alternative suggestions. When they came to Office Basics, they were looking for more than a vendor. They were looking for a strategic partner that would work side-by-side with them to achieve their goals.
solution
Office Basics created a dedicated team to ensure that the Forman Mills business essential products were ordered, stocked, and delivered to the stores in a timely and efficient manner. Our solution was to create an inventory management system that would procure, inventory, and monitor stock levels at our own distribution center. This enabled us to deliver products in a timely and efficient manner to Forman Mills' stores and distribution center.
"I just wanted to share a quick note and say that it's been a great working relationship. Our two teams have worked on the same side this whole time and we have accomplished a lot. It is great having a team of people dedicated to our account. It truly shows your commitment in helping Forman Mills achieve our goals."
Ryan Solleder, VP Operations, Forman Mills
Results
Solved the Core Problem
Our custom warehousing, ordering, and distribution model helped eliminate business interruptions.
40% Lower Print Costs
Another challenge we tackled was to reduce Forman Mills' print spend. We achieved this by implementing a strategic Managed Print Services program to automate supply delivery and optimize their print environment.
Strategic Partnership
Office Basics devoted a team of individuals to manage and monitor the health of the Forman Mills account. By communicating daily, we were able to help achieve our customer's goals and build a strategic partnership.
About Forman Mills
In 1977, with an $80 loan from his father, Rick Forman began his retail career selling t-shirts, sweat shirts and sportswear in local flea markets on weekends.
The business expanded rapidly to become one of the biggest flea market operations and in 1981 Rick opened the first Forman Mills Clothing store in an old alleyway on Frankford Avenue in Philadelphia. The store combined an outdoor flea market with an indoor showroom. With hard work, fair prices and quality merchandise, the first Forman Mills quickly became a major success.
In 1985 the first Forman Mills Clothing Factory Warehouse superstore opened in an old warehouse in South Philadelphia. From 1989 to 2007 the business grew from a single store to a chain of "Big Box" warehouse-style stores, serving communities in Philadelphia, New Jersey, Delaware, Maryland, and now Michigan and New York.
From a weekend concession in a flea market to a fast-growing major retailer in the off-price apparel sector, Forman Mills has grown to a multi-location, multi-state enterprise.
ABout Office Basics
Office Basics is your strategic partner in workplace solutions. We are industry experts in the behind-the-scenes processes that keep your organization running smoothly. Known best for our exceptional customer service (you'll always get a human on the phone during operational hours) we are committed to being leaders in our industry.
Our products and solutions include office supplies, janitorial and sanitation supplies, promotional products, breakroom supplies, office furniture, space planning and design, managed print services, and workplace wellness products.
Let's face it. The behind-the-scenes 'office' stuff isn't what you went into business for. It's not the reason you get up every day and head into work. For us, it is. We live and breathe workplace solutions. We strive to be that strategic partner for all our clients, simplifying their lives and helping them succeed at what they do best.
To see how we can help your organization solve its challenges, reach out to us for a free consultation.