As businesses and industries seek more sustainable practices, the demand for eco-friendly janitorial supplies has surged. This growing demand is two-fold:
To decrease your carbon footprint and contribute to a more sustainable future.
To decrease the health risks associated with the harsh chemicals often found in commercial cleaning products.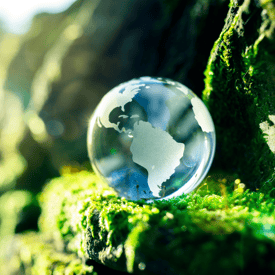 Thankfully, green janitorial supplies have grown alongside the demand and there are many more options on the market today than there were a decade ago. More importantly, today's eco-friendly cleaning products are as effective as their chemical-laden counterparts, and they won't break the bank either.
In this article, we'll explore four green commercial cleaning solutions that will help reduce your carbon footprint and lessen the health risks to your maintenance crews and facility occupants.
Common Health Hazards Associated with Commercial Cleaning Products
There are numerous chemicals found in common cleaning products, both consumer and commercial, that are hazardous to your health. Cleaning workers are routinely exposed to these chemicals to the detriment of their health and well-being.
Cleaning chemicals enter our bodies in two main ways:
Inhalation – Breathing fumes into your lungs.
Absorption – Absorbing chemicals through your skin, especially your hands.
Some of the immediate effects of cleaning product exposure are skin irritation and rashes, breathing problems, and eye injury. However, it's the chronic effects that have people most concerned:
Lung cancer: Studies show that women who clean for a living have twice the risk of getting lung cancer.
Asthma: Studies show that cleaning workers have increased rates of adult-onset asthma.
Allergic contact dermatitis: Studies show that cleaning workers have higher rates of skin conditions, such as allergic contact dermatitis.
Reproductive issues: Studies show there are higher rates of birth defects in the children of cleaning workers.


Cleaning Chemicals That Are Hazardous to Your Health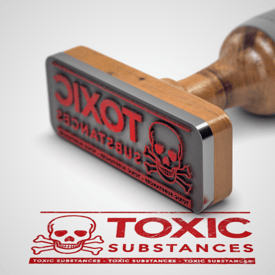 While this is not an exhaustive list, here are some common chemicals found in cleaning products that are detrimental to your health:
Phthalates: Found in many fragranced cleaning products, phthalates are linked to cancer, hormone disruption, birth defects, respiratory disease, chemical burns to the eyes and skin, and more.
Triclosan: Often found in antibacterial cleaning products, triclosan is considered an endocrine disruptor and has been found to interfere with human thyroid metabolism.
Quaternary Ammonium Compounds (QUATS): Found in disinfectants, antibacterial, and toilet cleaning products, exposure is linked to skin rashes, respiratory problems, and reproductive issues.
Butoxyethanol: Found in many commercial cleaning products such as dish soap, degreasers, and glass cleaners, it's a hazardous air pollutant associated with fertility issues, low birth weight, asthma, and allergies.
Chlorine: Found in bleach-based cleaning products, chlorine is particularly harmful to people with respiratory problems because of the fumes it generates. Chlorine is also sometimes used to bleach paper towels, napkins, and tissues. This can also be harmful to people's health.


Sustainability Concerns and Challenges
In addition to mitigating the health risks of maintenance crews, employees, and visitors/patients/students, many organizations have sustainability goals they want to reach as well. In the world of facility maintenance, the main focuses are the reduction of waste and the use of recycled materials.
Automatic dispensers for soap, paper towels, and other disposables have helped greatly to reduce waste. We have not included them on our list of green commercial cleaning products because the technology is widely adopted. However, if you do not currently use automatic dispensers, we encourage you to consider making the switch.
In addition, it's important to consider the chemicals used in hand soap products. Many of the leading brands carry hand soap products that are free of harsh chemicals and irritants. Reach out to us today to learn more about your options.
4 Green Commercial Cleaning Products to Consider
Peroxy HDOX
When used as directed, Peroxy HDOX is a disinfectant that kills germs like Norovirus and salmonella. It uses the power of hydrogen peroxide, a non-toxic ingredient that is both antifungal and antibacterial. Plus, it has the added benefit of streamlining your janitorial supplies to save you time, space, and money.
Facility managers who make the switch to Peroxy HDOX only have to worry about buying one cleaner. This gets diluted into two different concentrations – a green and a red – that, together, clean almost everything in your facility, including glass.
Marcal's Paper Products
Marcal is committed to sustainability. They produce recycled paper products from de-inked, recycled fibers, with no chlorine bleaching. Ask one of our Facility Solutions specialists about their Transcend Program.
Dual-Blend® #4 - Earth Sense® pH Neutral All-Purpose Cleaner
Dual-Blend® #4 is a pH-neutral all-purpose cleaner that is Green Seal Certified. It is readily biodegradable with no VOC's and does not contain harmful chemicals. It can be used for cleaning floors, tile, marble, granite, linoleum, desks, walls, counters, and painted surfaces.
CleanCore™ Solution
CleanCore™ Solution is a company that developed a patented technology that infuses cold tap water with ozone gas to create their Aqueous Ozone Solution. This solution has a high concentration of dissolved ozone in the form of nanobubbles that provide deep cleaning capabilities. Their solution thoroughly cleans and sanitizes surfaces without the use of harsh chemicals.
Green cleaning technology has seen great advancements over the years. There are many effective and affordable products and solutions on the market nowadays. If you are interested in learning more about these and other eco-friendly janitorial products and solutions, reach out to us today to learn more.