The devil is always in the details. When adding on to, redesigning, or building out your office space, furniture may be the last thing on your mind. But, the truth is you should be considering your office furniture one of your best employees! Who else stays late (or never leaves), is always there when you need them, and does their job without fail?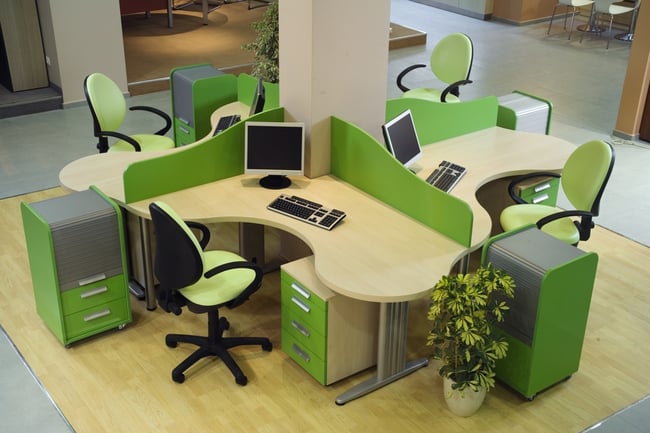 Purchasing new furniture for your office may seem as simple as driving over to your local big box and buying a few desks and chairs, and while that may tide you over for a while, you'll quickly learn that the devilish details in office furniture really do matter. As your team grows and expands, the demands of your office and furniture will change. Planning for these changes is vital. Choosing to partner with an office furniture dealer will give you:
The Best Growth Strategy
Shop for your future office. What does that mean? It means that while you may have a smaller staff base right now, if everything goes according to plan you'll be facing significant growth. But, where will you house all the new staff needed to support your growth?
Buying a few desks, chairs, and maybe a couch to get by today is only to going to work for so long. You need to ensure that you not only have the right amount of furniture, but that also your technology is laid out to support the growth.
Don't be the boss that's having to put new employees in the breakroom. Partner with an office furniture dealer to get it right the first time.
The Best Prices & Stock
Everybody loves a good deal - especially when you're purchasing large items. Finding a reputable office furniture dealer gives you a single source to find the best stock options and retail prices available.
Leverage their experience, expansive showrooms, and relationships with the manufacturers to find exactly what you're looking for at the best price possible.
The Best Use of Time
Operating a business demands a lot. You're constantly needed in at least three different places at the same time. Managing to be in those three places is something you've become a bit of a master at. But, when it comes to selecting the new furniture for your office, you can do it in less time than you thought possible! Office furniture dealers have the skill and experience to make the most of the time you have and with all of their resources at your fingertips you can save countless trips to and from the hardware store, furniture store, and late dinner pick-ups.
Growth is an exciting time for your business and something you should be proud of! Support that growth by being strategic about your office's furniture layout, making the most of your time and resources and partnering with an office furniture dealer!