Office space is important. The employees' productivity is dependent upon the office layout. More businesses are leaning towards collaborative workspace environments. Open office space layouts have been increasingly popular. (Read "Considering An Open Office Floorplan? Here Are 5 Things You Should Consider" for more information).
But what about the negative office space trends? Here are the top 3 negative office space trends that need to go away.
Cubicles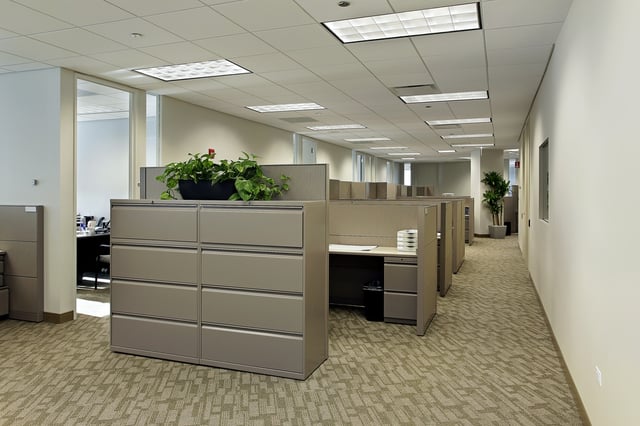 It's time to get rid of those cubicles! Studies show employees working in cubicles are not as productive. They are also less happy. Cubicles do not allow for employees to interact and collaborate with each other. Office space should offer flexibility to its employees. If they need to have a small meeting or collaborate, they can't just move their cubicle around. Provide lightweight tables and chairs that employees can easily move together temporarily. Once they're done, they can move it back to their original spots.
Bulky Filing Cabinets
Bulky metal filing cabinets aren't the most pleasant thing to look at in the office. They're loud, clunky, and take up a lot of space. There are many companies that now offer digital storage technology to eliminate these metal cabinets. Not all offices can go completely paperless, though. If that's the case, utilize moving filing cabinets that double as a desk or side table. This is especially great for offices with limited space.
Workout Ball/Chair
Everyone has probably seen or heard about the workout ball being used as a chair. It's okay for short term use, but not for an 8-hour work day necessarily. Since it is not actually a chair, it doesn't offer any support for your back. The best solution for this would be to offer different types of movable chairs with back support. If employees want to take a break from sitting, make use of tall desks where they stand at. Let's face it, no one wants to sit at a desk for 8 hours!
These minor changes in the office can make all the difference. Each office environment is different, making it hard to figure out what best suits your office needs. Let Office Basics help you decide. Download our free guide below!