Chances are your employees spend a substantial amount of time in the office. When they're in the office more than almost anywhere else, your employees don't want to find themselves sequestered in tiny cubes, sitting in uncomfortable desk chairs and staring at drab office walls.
Your office should keep employees happy and not have them begging for lunchtime so they can escape outdoors. It should inspire them and offer a welcoming environment that's perfect for discussing new ideas. If your workplace is failing to do all the above, it may be time for a redesign.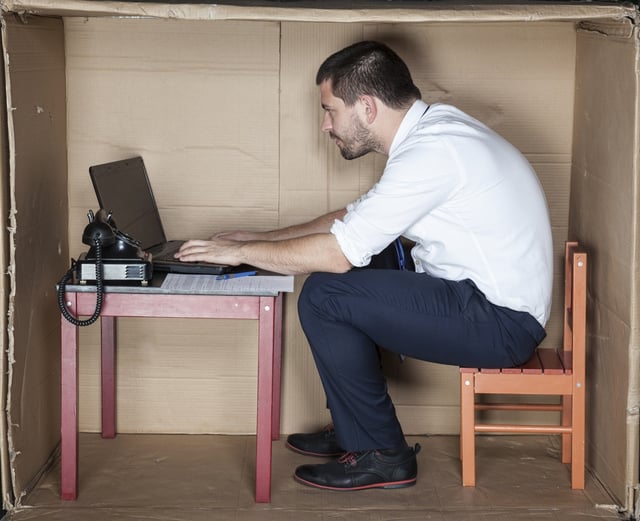 Redesigning your office doesn't have to cost a fortune; not when you follow these pointers. Here are 5 tips for designing a functional and budget-friendly office.
Add a Splash of Color
Simply changing the wall color can have a profound effect on employees' productivity and mood. Workplaces tend to use neutral colors to create a sophisticated or professional look, but a monochromatic white work environment can give the office a sterile feel and disrupt an employee's focus.
The wall color you decide on ultimately depends on your company, its specific goals and the emotions you hope to elicit. Brighter paint colors can liven the workplace and energize your team, while shades of blue and green have a calming effect and enhance creativity. Applying a new coat of paint will uplift employees' moods and act as a cheap productivity boost.
Change Your Lighting
There's nothing worse than working under a buzzing fluorescent light. The harsh light can contribute to headaches and hinder an employee's effectiveness. That's why changing your light fixtures can have a positive influence on employees' moods. Create a warm, creative office space by adding desk lamps or letting in more natural light wherever possible.
Show Your Personality
Forget corporate art or posters with inspirational phrases. Instead, display your company's personality by hanging an enlarged digital photo, a framed book excerpt or a unique art piece on your walls.
Try to mix in some quirky or vintage decorative accents, whether it's an antique dresser used for storage or a rustic wooden table in the break room. These additions don't have to be expensive; they could be homemade or discovered in a thrift store. What's important is that they add character to the workplace.
Bring in the Outdoors
Being cooped up inside all day long can be difficult for employees. Adding plants to the office gives them a glimpse of nature, improving workplace morale and productivity.
When choosing plants for your office space, make sure they will receive the amount of sunlight they require. If you know the plants are unlikely to survive, you may want to consider adding other natural elements to the office that have similar positive effects, such as unpainted wood.
Work With An Office Furniture Dealer
Transforming your office space is a daunting task, requiring a great deal of time and effort. Working with an office furniture dealer can simplify the process and help you develop an office design that falls within your budget and meets your exact requirements.
An office furniture dealer will assist you throughout the design process. They will analyze your office's floor plan and help maximize your available space. Experienced interior designers and contractors will use your feedback to develop a space-saving office design. Once a final design is agreed upon, the office furniture dealer will inform you of the full cost and break pricing down by item.
Revamping your office space can be a huge investment, but there are ways to save some money. Small changes to your office space can make all the difference. You'd be surprised how much a desk lamp or a potted plant can improve your workplace.
Are you ready to bring your design ideas to life? Get inspired with our wide selection of commercial office furniture!