Stop what you're doing. Take a look around your office. Are you seeing smiling faces or expressions that range from miserable to tired to angry?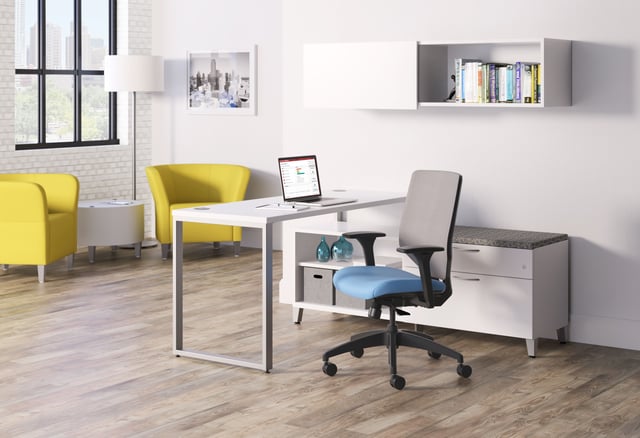 Research shows that happier employees are 10-12% more productive. If your employees are looking like they'd rather be anywhere else in the world, there are small changes you can make to create a space that feels like a second home.
Sure, your office will never feature all the amenities and personal items of your employees' homes. You may never have a jacuzzi bathtub or a king size bed, but that doesn't mean you can't add some personality to your workplace.
It's time to move away from the neutral gray colored box and design an office that feels a little bit more like home. Here are 5 ways you can bring the comforts of home into the office.


1) Everything including the kitchen sink
The kitchen is the heart of the home. It's cliche, but true. Make employees feel at home in the office by incorporating a kitchen they'll actually want to visit. This means including a coffee machine, healthy snacks, updated appliances and even laying out a food spread every so often. After all, working does build up a healthy appetite.
Instead of keeping a stockpile of paper plates and plastic utensils on hand, take the time to amass a collection of mismatched and unique mugs, plates and silverware. You can even include mugs with funny sayings or featuring local sports teams. Employees are bound to prefer a Garfield mug featuring the famous saying, "I Hate Mondays," over a styrofoam cup.
With a fully-stocked and well-designed kitchen at work, employees don't have to worry about rushing to make or pick up coffee in the morning. They know they can come into work, stop in your kitchen and pour freshly brewed coffee into their mug of choice. They also can store their favorite snacks and perishable items in your fridge and prepare food in a microwave, toaster oven, etc.
Just be sure to include plenty of seating or multiple kitchens depending on the size of your company. The last thing you want is employees having to eat standing up because of limited seating.


2) Add little personal touches to your office
There are more ways to personalize your office than hanging an inspirational poster every 10 feet or so. Hunt down unique, one-of-a-kind decorations that will dress your office up a bit. Try adding bookshelves in a bland reception area or placing soft rugs in main areas. Or, you could place a variety of books, magazines or even creative exercise books around the office that employees can pick up and read during their breaks.
Also, encourage employees to express their individuality and bring in personal items to decorate their cubes or work areas. Everyone will feel more comfortable in an office that is more than just cubicles and white walls.


3) Comfort is second to none
No house is complete without somewhere to sit and watch TV, read or just relax after a long day at work. That's why it's essential to have ample seating in your office. Be sure to include lounge areas where your employees can collaborate and discuss business matters. Similar to a living or family room at home, design sitting areas with comfortable couches, pillows and even coffee tables or end tables.
Also, never underestimate the importance of lighting. Rather than relying on the illumination of glaring fluorescent lights, incorporate table or floor lamps that complement your office design and are easier on the eyes. Or, you could always look to Mother Nature for natural lighting and place lounge areas by large windows.
These spaces will encourage employees to step away from their desk for a much-needed change of scenery. They can also retreat to these areas when they are struggling to focus and need to work away from the main area.


4) Work hard and play hard
Employees can work hard and have fun too. Incorporate games or fun items in your office to help boost creativity and re-energize your employees. Ask your employees what their favorite activities or games are and, if possible, add them to your office.
For example, you could have Nerf gun battles during the afternoon lull, board game lunches or a ping pong table in the break room. These activities will bring employees closer together and relieve stress. It will also remind them of family game nights or fun activities they engage in at home.


5) Don't forget the bathroom
The bathroom is probably the last thing you consider when designing your office. But, just a few small changes to your bathroom design can make for a more inviting, productive work environment.
Bathroom upgrades don't need to cost a fortune. You could add cabinets to the bathroom and stock them with any toiletries your employees might need. You could also add flowers or swap out paper towels with hand towels. You may not have a clawfoot tub, but even little tweaks can make a huge difference.
Even if you revamp your entire office space, your employees will probably still prefer their home to the workplace. But, all of the above design tips can help you create a workplace that employees will actually look forward to working in.
Whether you're redesigning an existing office or outfitting a new space, Office Basics Business Interiors can assist you throughout the entire process. We can discuss your wants and needs and help you transform your space. Learn how we can help by checking out our How It Works page here.