Since many employees will continue to work remotely on some level, leadership teams need to find ways to extend the in-office experience to at-home employees, starting with safety.
According to OSHA, musculoskeletal disorders are one of the leading causes of lost work time, but they can be largely prevented with proper ergonomics.
Start with the place your employees spend most of their time: their chairs. While chairs can be expensive, they don't have to break your budget. Continue reading to learn about the best ergonomic office chairs under $200.
The Importance of Ergonomic Seating
According to Forbes, most office workers spend 15 hours per day sitting. Multiply that by 262 workdays per year, and the total rivals the amount of time most people spend in bed.
The problem for procurement officers and purchasing managers will be figuring out how to do more spending with less money. Budgets will be tight this year, and frugality is imperative. Here's how to find the best ergonomic office chair under $200:
Narrow Your Search
Define the most important features and cut out the frill. Make the following hallmarks of a quality office chair your top two priorities:
1. Support
Over time, poorly designed office chairs can take a toll on an employee's physical health and also affects their ability to focus.
To avoid discomfort, spine and neck issues, muscle straining, and other problems, employees need office furniture that supports their body in a healthy position for extended periods of sitting.
More specifically, look for lumbar support that takes the pressure off the spine, seats that promote forward posture, and armrests that can be adjusted to alleviate stress from the shoulders.
2. Adjustability
To achieve the highest degree of ergonomics, office chairs must complement the employee's desk and office space in addition to physically supporting the employee.
Adjustability is key. Look for products that will allow the employee to adapt the chair for their height, size and surroundings.
How to Find Comfort Without the Cost
For maximum comfort, the adjustability of the chair, the seat design and the material are critical features.
Look for a pneumatic height adjustment lever and a seat depth and width that can support any user. Seats should offer enough cushion to sit comfortably for hours without feeling the base of the chair.
Also, consider the chair's fabric and opt for a breathable material that will help keep employees cool after hours of sitting.
As for style, what works in an office environment might not be the best fit for an employee's at-home workspace.
Consider the following in your search:
Does the employee have a traditional desk, sit-stand desk or countertop riser?
Do they work in a small office, shared space or dedicated room?
Do they need swivel capabilities? Or are they mostly facing in the same direction at all times?
Stylish Chairs with Multiple Purposes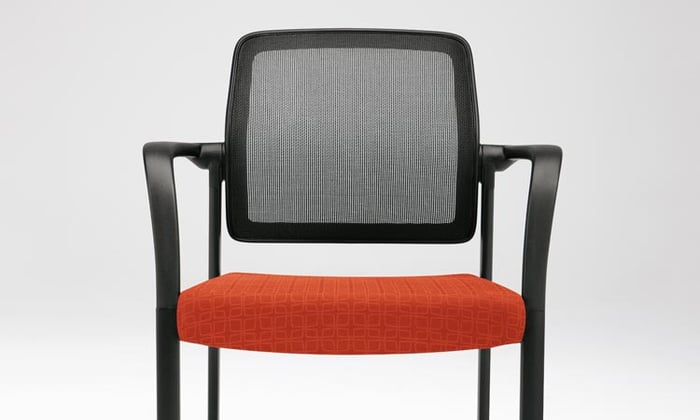 Ergonomic doesn't have to be ugly, and many contemporary chairs now serve multiple functions, which is great for those on a budget. Consider the following options as alternatives to the traditional office chair:
Sleek-looking 4-leg chairs that fit beautifully into contemporary settings and double as additional seating for in-home guests.
Perch stools with footrests, adjustable heights, and bucket seats that facilitate proper alignment and safely support frequent changes from sitting to standing positions.
Lounge chairs that offer exceptional style and comfort, but with all the makings of an ergonomic office chair.
Slim-profile chairs that provide the same comfort and support as standard-size office chairs, but without the bulk.
Ready to shop? Browse our best ergonomic office chairs for your remote employees.