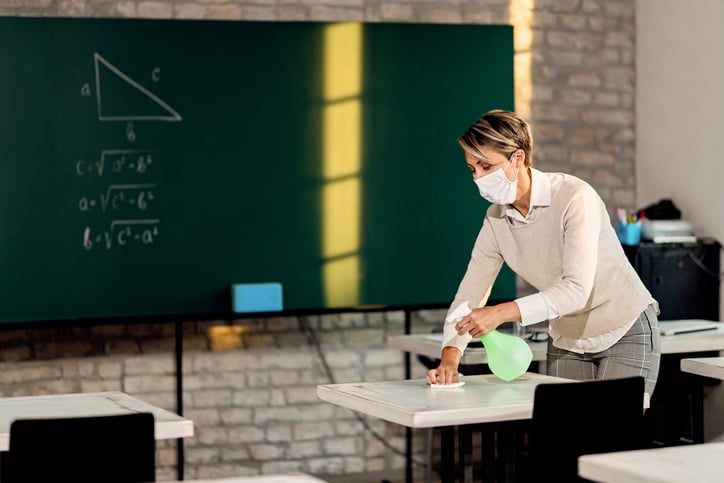 With vaccinations well underway, we've entered a new phase of the pandemic, and schools must once again adjust, including how they spend the Elementary and Secondary School Emergency Relief (ESSER) funds as they reopen this fall.
During the initial wave of funding, many schools stocked up on safety and sanitation supplies and remote learning tools.
Now, when purchasing back-to-school supplies and implementing strategies to support student learning, teachers and administrators must consider safety protocols and the emotional effects that the pandemic has had on their students.
With the first funding period deadline set for Dec. 31, the time is near for administrators to make intelligent, decisive spending decisions that support reopening plans.
If they fail to spend ESSER I funds before the December deadline, any remaining balance will be forfeited to the federal government.
Is your school stumped on how to spend the remaining ESSER I funds?
These creative spending tips can help schools enhance in-person learning environments, including supporting social-emotional learning, while adhering to safety protocols:
Tips For Classroom Layouts
The Centers for Disease Control (CDC) recently updated its operational strategy for K-12 schools, recommending that social distancing remain in effect but lowering the measure between students from 6 feet to 3 feet.
This means it may still be a while before shared tables and workstations pass safety standards, causing administrators to rethink how students will work in a classroom setting.
Single-Person Workstations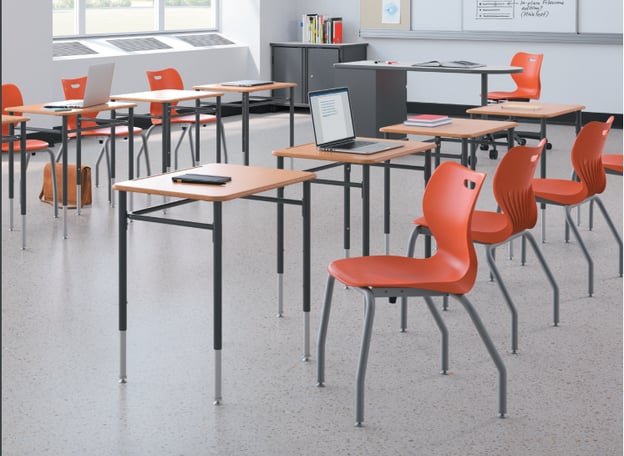 Many schools are returning to the traditional single-person desk, which can be rearranged easily to facilitate collaboration between students while complying with CDC standards.
Additionally, single-person desks can include personal storage space for books and back-to-school supplies, which helps to reduce the need for communal storage areas, such as cubbies.
Flexible Seating Alternatives
Moving about the classroom is still a restricted activity. As such, students are currently required to sit for long periods of time, which can generate restless energy.
To channel restlessness into healthier, less disruptive behaviors, schools should consider alternative seating solutions, such as:
Active seating, the most common example being an inflatable therapy ball formed as part of a chair. This type of seating is anything that allows students to rock, bounce, lean or stand throughout the day rather than remaining completely sedentary.
This can be particularly beneficial for younger student populations and kinesthetic learners who inherently feel compelled to move around.
For students who need something calming, a comfortable bean bag cushion that allows them to plop on the floor rather than sit at a desk may be just the trick.
The key is to give them a range of good choices so they can feel in control and learn to self-regulate.
Sit-Stand Desks and Other Alternatives to Traditional Desks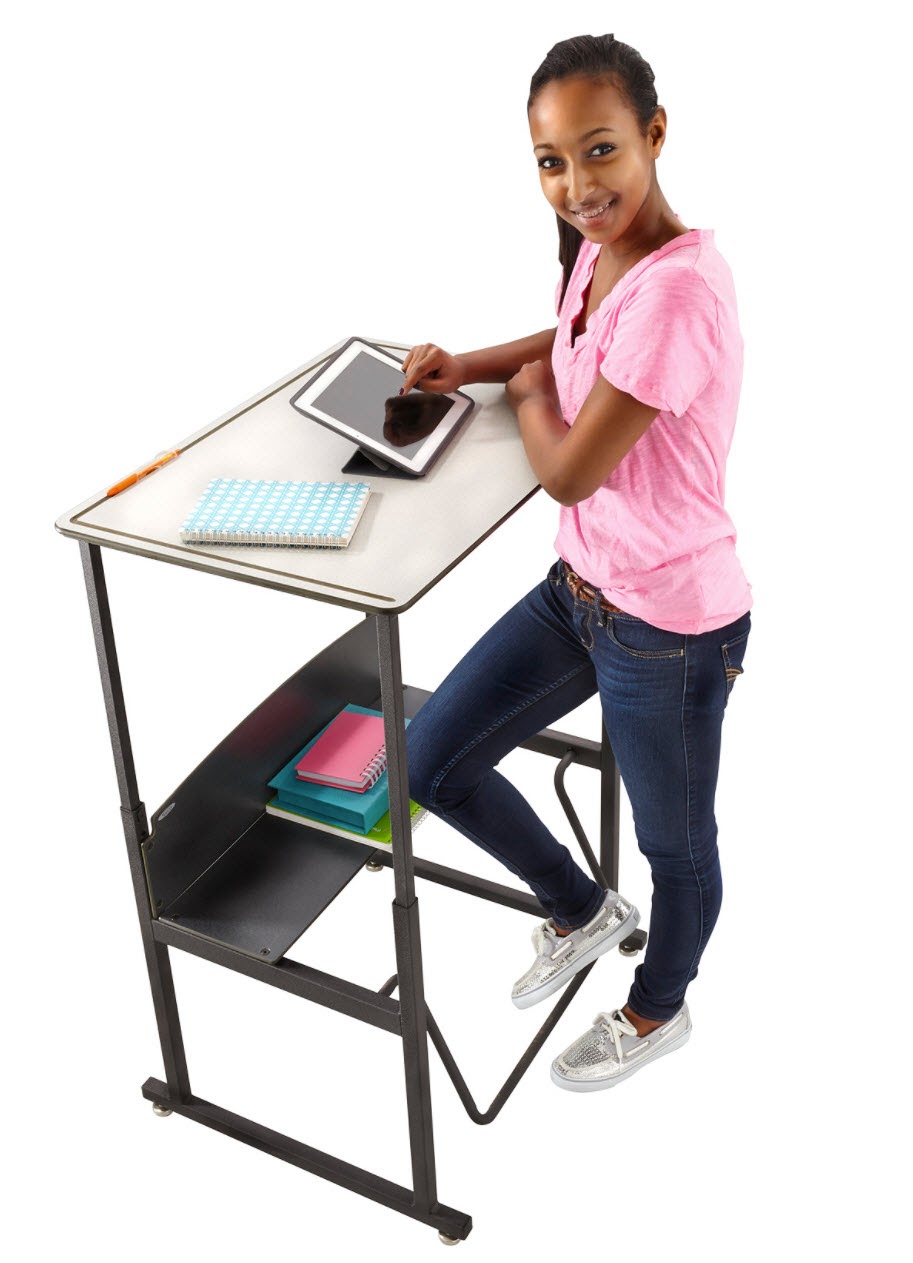 Sit-stand desks and desktop risers offer many of the same benefits as active seating. Since K-12 students spend a substantial amount of time sitting in school, the effect of incorporating standing desks in schools is a growing area of study.
A recent study published in the International Journal of Environmental Research and Public Health found that students were not less attentive at standing desks.
Additional health benefits of standing desks include:
You can also use lightweight and mobile desks to easily adapt your classroom to suit the activities, particularly collaborative group work. The change will also keep the students engaged and focused.
Workspace Dividers & Screens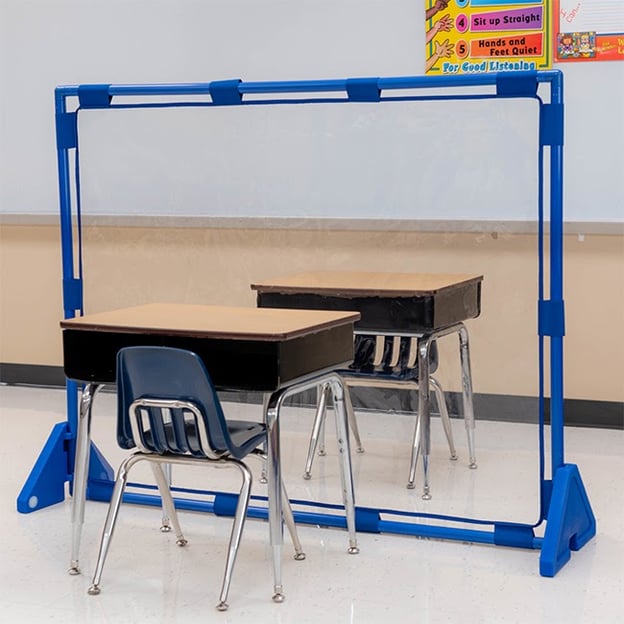 Dividers and screens are like built-in sneeze guards. They create a protective barrier between students and teachers to facilitate close-working collaboration without jeopardizing safety.
More specifically, schools can invest in various sizes and types of partitions, which offer a variety of unique design features, such as:
Hanging file storage to help students stay organized
Magnetic dry-erase boards that students can use to work through questions or problems during class
Privacy screening prevents wandering eyes during test-taking and can cut down on chatter during class time
Tips For Back-To-School Supplies
Sanitization will continue to be a challenge for teachers, even after the threat of COVID-19 subsides. In addition to traditional cleaning products, teachers should look for indirect ways to control the spread of germs and create a culture of health and safety at school, such as:
Antimicrobial Products
A new wave of antimicrobial back-to-school supplies, such as staplers, scissors, pens and pencils, have emerged. Antimicrobial products help keep workspaces clean by inhibiting the growth of bacteria on high-touch surfaces.
Want an easy way to protect students from the spread of germs? Use disposable clean sheets to cover desktops and similar shared surfaces.
No-Slip Floor & Wall Decals
No-slip floor and wall decals are a colorful way to remind students to play it safe throughout the day.
Unlike posters, which cannot be cleaned and do not last long, stickers and decals are durable, compatible with most surfaces, and can be disinfected regularly alongside other school surfaces. Use them to:
Direct the flow of traffic in classrooms and hallways.
Prevent traffic jams and bottlenecks that jeopardize social distancing.
Provide students with safety instructions.
Promote hand hygiene.
Tips for School Facility Updates
Higher standards for cleanliness and air quality will require many districts to make updates to school facilities. While ESSER I and II both focused on the impact of COVID-19 on schools, ESSER II was more explicit about addressing remediation for lost learning as well as facilities improvements, such as ventilation upgrades.
Fortunately, the third installment of ESSER funds (ESSER III) passed in March of 2021 for $1.9 trillion, prioritizes spending focused on reopening schools.
This plan represents nearly 10x the amount of funds reflected in ESSER I, and allocates about $129 billion directly to K-12 education. Schools grappling with multiple expensive needs can plan on using ESSER III funds for larger facilities updates, such as:
Automated Handwashing Stations for Children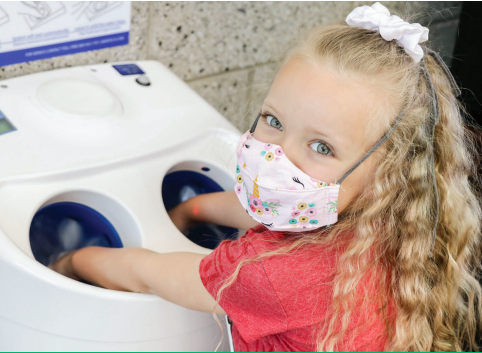 Automated handwashing stations are a safe and effective way to improve hand hygiene in schools.
These fully automated stations remove more than 99.9% of harmful pathogens in as little as 12 seconds and help teachers usher young student populations through restroom breaks without the mess and hassle of traditional handwashing stations.
Automated handwashing stations can also reduce the number of high-touch surfaces in school restrooms, as well as the number of cleaning cycles required by the school's janitorial staff.
Air Purifiers

The CDC recommends supplementing HVAC systems with approved portable air cleaners, such as the AeraMax Pro, to ensure air quality, especially in classrooms with limited ventilation. The AeraMax Pro conserves energy by automatically adjusting air quality based on real-time room occupancy and can cycle air as many as five times per hour.
Change is Growth
Change can be overwhelming, but many of the updates funded by ESSER will have a positive and lasting impact on schools across the country, including those once underserved by financial aid.
The push for higher health and safety standards has also fueled the innovation of new and exciting products that will make life safer and easier for teachers and students.
For more ideas on how to spend emergency funds wisely, download our guide to essential supplies: Back to School, All The Things you Need For a Safe Reopening.