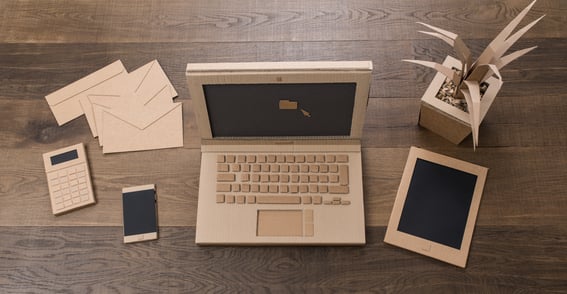 From deforestation and mass manufacturing to plastic ink cartridges that end up in landfills, traditional commercial printing is an iconic foe of environmentalism.
The emergence of products and practices such as eco-friendly printing solutions, on the other hand, is creating a bright, new image for the future as more global enterprises are vowing to reduce their carbon footprint.
Going green is not only good for the planet, but it can also help your company save money and attract consumers wishing to do business with environmentally-friendly companies. Learn how you can join the green movement through some simple tips you can implement today.
The Top 5 Priorities of a Green Business
"Green Business" refers to any organization that actively works to eliminate any negative impact it might have on the environment, economy or community.
Regardless of size or scope, every company can incorporate green practices from the following areas into their business. Think of one thing you can change in each of these areas:
Lower energy consumption: Green companies are implementing everything from solar panels to eco-friendly LED lights to reduce energy and save money.
Reduce waste: This could be as simple as recycling toner cartridges and composting food and coffee grounds from the breakroom.
Use sustainable materials: Consider products made from eco-friendly materials, such as storage carts made with bamboo. The possibilities are endless!
Comply with environmental laws, regulations and recommendations: Assign a "green officer" for your office to ensure you keep up with the latest environmental data and regulations.
Invest in green products and equipment: This includes eco printers and green cleaning supplies.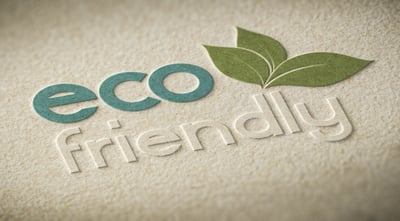 Eco-Friendly Printing Solutions
If you're serious about going green, start with the equipment and paper your company uses to print and copy materials:
1. Join a Toner Cartridge Recycling Program
Look for office product suppliers that partner with companies like HP to give customers access to ink and toner recycling programs. These programs provide simple ways for businesses to turn in used cartridges to the manufacturer, where they can be recycled into new products, rather than disposing of them in a landfill.
2. Purchase Eco-Friendly Printing Paper
Aside from Dunder Mifflin's rise to fame, paper companies often have a bad reputation. However, some manufacturers, such as Xerox, parlay paper sales into green initiatives, like forest preservation and clean air and water research, thereby lowering their carbon footprint.
3. Invest in Commercial-Grade Eco Printers & Copiers
Outdated, commercial printers and copiers use significantly more electricity, paper and ink to perform a lower quality print job. Upgrade large, frequently-used equipment to new energy-efficient models with the ENERGY STAR™ logo.
Eco printers and copiers feature numerous green-conscious settings to significantly reduce energy waste and increase efficiency, including:
Rapid print speed
Sleep mode
Automatic shut-off
Ink monitoring
4. Don't Forget About Eco Printing On Paper
It's easy to overlook this last eco-friendly printing solution — the toner used to print on paper! There are thousands of eco-friendly toner products that offer the same vibrant color and quality without harsh chemicals or manufacturing processes. Look for toner cartridges that are:
Biodegradable
Green-Seal Certified
Remanufactured
Refillable
Recycled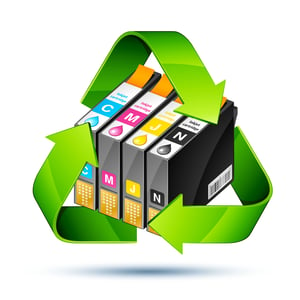 Green Is The New Black & White
Going green is a great way for businesses to align what they do with what they believe.
By incorporating more green practices like eco-friendly printing solutions into day-to-day operations, you can also reduce energy consumption and product waste. You might even be eligible for certain tax breaks.
More importantly, your customers and the planet will thank you for doing your part to build a healthier, more sustainable environment for future generations.
As an environment-friendly company, the team at Office Basics can help you go green through our toner recycling program and environmental tips such as saving energy and reducing paper waste.
Contact us today to get started!