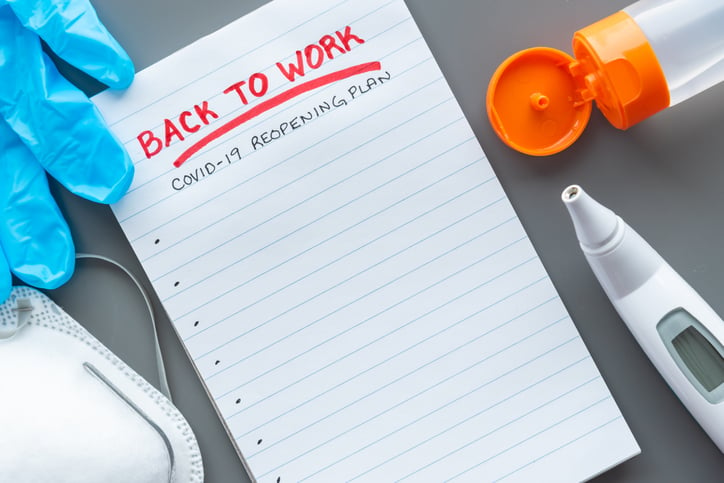 In our recent Return-to-Work survey, 99% of respondents said they planned to return to the office at least part of the time, yet well over half felt only "moderately comfortable" about doing so.
Many of the big tech companies who've been leading the charge on reopening are eager to get back to the office. Google will reopen its doors ahead of schedule.
In addition to new safety measures, office and facilities managers are busy creating remote work policies, updating time-off procedures and creating strategies to increase workplace happiness and engagement overall.
When it comes to your COVID recovery plan, no detail is too small, which is why your office supplies must include the following to help employees feel safe and excited to come back to the office.
Communal Office Essentials
Here's the problem: communal office supplies, such as pens, staplers, tape dispensers, scissors, keyboards and calculators are a breeding ground for bacteria.
According to Microban, one of the leading manufacturers of antimicrobial products, bacteria that exists on untreated surfaces can double in number every 20 minutes!
Antimicrobial Office Supplies
Even if your staff is on-point with their cleaning and sanitizing routine, there's no keeping up with that kind of growth.
Since COVID-19 (and the heightened awareness it created surrounding germ and virus spread) a swell of new antimicrobial supplies have emerged for office settings.
Antimicrobial office supplies help fight the spread of illnesses using a special, germ-fighting coating that slows or prevents bacteria and other microorganisms from growing on treated surfaces. These supplies are also:
Effective against bacteria by up to 99.99%
Able to fight mold and mildew growth
Safe for the environment
Food-contact approved
Antimicrobial Desk Pads
According to an article published by Lifehack.org, the average desk has 400x more bacteria than the average toilet seat, especially on office desk areas where people tend to rest their hands. Do you trust every employee to properly sanitize their workstation?
If not, add antimicrobial desk pads, such as those manufactured by the brand, Artistic, to your list of essential office supplies. In addition to keeping surfaces more sanitary in-between cleanings, these desk pads offer some bonus perks:
Cushioned writing surface for improved handwriting
Transparent sleeve design for displaying important documents
Non-slip surface for keeping office supplies in place
Single-Serve Coffee Maker
Give employees a break, literally. 67% of workers say coffee breaks improve job satisfaction.
Furthermore, the majority of employees prefer fresh coffee grounds and consider single-serve coffee makers to be more sanitary than traditional drip coffee makers. Keurig solutions are well-known for their affordability and usability.
Plus, they offer numerous other benefits that fit right into your return-to-work strategy, including:
A non-porous, easy-to-clean surface
Air-tight coffee pods that protect grounds from contamination
Accessories such as decals, signage and deep-cleaning kits to support social distancing and COVID cleaning protocols.
Air Purifiers
Let's not forget all the spaces in-between surfaces that require cleaning. Facilities managers should already be looking for ways to update or service building HVAC systems.
To supplement their efforts, office managers should consider placing portable air purifiers in occupant-dense areas or high traffic areas, such as breakrooms and restrooms.
The AeraMax Pro is the only air purifier that automatically responds to occupancy and air quality levels, negating the need to constantly check settings and controls. Other benefits include:
3 to 5 air changes per hour
300-550 square foot capacity
Quiet operating mode
Screen display with real-time air quality data
Stress Relieving Office Accessories
Between leaving the kids (and figuring out the logistics of doing so), grappling with safety concerns, and readjusting to the commute, stress will be an inevitable part of your employees' return-to-work experience.
Office managers can help combat stress by providing greater comfort in key areas:
Office Seating
Office seating is a perfect place to start. In addition to ergonomic chair designs, consider adding an inventory of stress-relieving accessories, such as:
Gel lumbar supports that can be heated or chilled to alleviate tight muscles or ease soreness.
Hybrid seat/back cushions constructed of memory foam, which conform to each employee and can be placed on the seat base or lower lumbar area to add customized comfort.
Antimicrobial lumbar back supports for mid-spinal support and built-in bacteria-fighting technology.
Sit/Stand Desks
When working from home, many employees found themselves multitasking with housework and other chores, which helped to get them out of their seats and moving throughout the day.
A return to the office shouldn't be synonymous with returning to a sedentary lifestyle. Recent research confirms what many already know: sitting for long periods of time is bad for your physical and mental health.
One study links sitting all day to an increased risk of depressive symptoms. Another study revealed that sitting increased the risk of mortality in adults who lack physical activity in their routines.
Sit/stand desks and desktop risers add movement to the workday for improved wellness, plus additional benefits, depending on the type and model you choose, such as:
Fully-assembled delivery
Customizable ergonomic features
Antimicrobial coating


Office Accessories That Support Mental Health
According to Mental Health America, the number of people looking for help with anxiety has increased by 93% since 2019 (largely due to the pandemic). Those seeking help with depression also increased by 62%.
Beyond employee benefits and wellness programs, office managers can support improved mental health by incorporating certain mood-boosting workspace elements:
Office Plants
Scientific studies on indoor plants have revealed that adding more greenery to your office can have a therapeutic impact on occupants of the environment, such as:
Reduced stress levels
Better attention spans
Faster recovery from illness
Increased productivity
Improved outlook on work
Improved indoor air quality
Color Decor
Color therapy is a modality that uses color and colored lights to improve physical and mental health. Those who practice this form of therapy believe that colors can subtly change our moods and biology.
For example, blue hues can improve alertness, attention and general mood. Green hues may reduce physical pain. Office managers can incorporate DIY color therapy at the office in several ways:
Create an outdoor workspace that provides employees with a way to absorb natural light and plenty of greenery throughout the workday
Decorate office spaces using strategic color palettes that enhance particular feelings or moods
Invest in computer software that changes the color of your employees' computer screen to prevent eye strain and exposure to too much blue light, which may have an adverse effect on mood and sleep.
Office Organizers
According to a study on organization and mental health, women, in particular, are more likely to become fatigued and depressed when in a cluttered environment. These same women also had higher levels of cortisol, often referred to as the "stress hormone."
To that end, consider an investment in a variety of office organization essentials, such as:
Supply caddies
Desktop organizers
Bin storage organizers
Hanging wall file organizers
Filing trays
The Most Crucial Office Supplies
No office supplies list is complete without the best disinfectant sprays, wipes and cleaners for killing the COVID-19 virus. Safety will continue to be every office manager's No.1 priority through 2021.
Reassure your employees by establishing a strong janitorial presence. Equip your cleaning staff with CDC-recommended sanitizers and disinfectants, especially for communal areas that are notorious for spreading germs and illnesses, such as office restrooms.
Whether you're planning to reopen your doors or you've already returned to the office, our Return-to-Work guide will give you ideas to create a smooth transition and a better workplace experience.