As students and workers reassimilate to office, school and university life, facilities teams face heightened health and safety standards that will require a re-evaluation of current cleaning and disinfection strategies.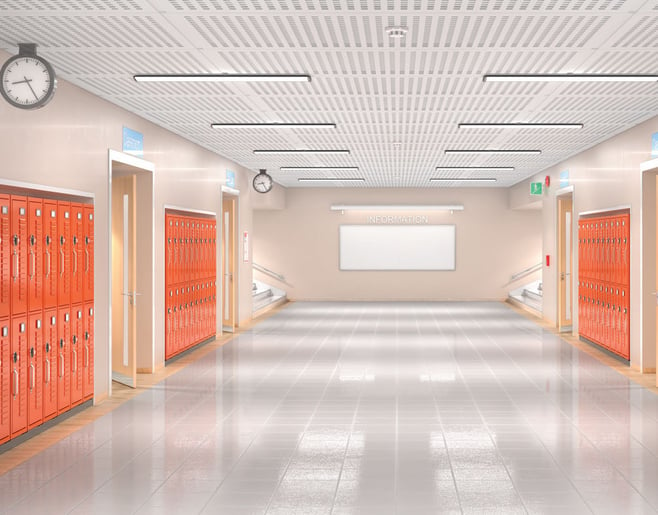 This includes the need for specialized maintenance support, such as floor cleaning solutions, including both products and services. For a building so clean that you can eat off the floor, check out the following eco-friendly floor cleaning products, janitorial supplies, and sanitizing tips.
Hardwood Floor Cleaning Solutions
Like taking sandpaper to a wooden block, visitors and occupants track mud, gravel, ice-melt chlorides, and other distressing elements across hardwood flooring, quickly wearing down sealants and finishes.
As a result, the surfaces of the floors become dull, scratched, and damaged. But don't worry. Daily and weekly floor cleaning services can go a long way to protect flooring and preserve luster.
Routine & Preventive Maintenance for Hardwood Floors
Use floor mats outside and inside entryways, at work stations, and in heavily-trafficked thoroughfares to provide a safe non-slip surface for foot-traffic and minimize the amount of moisture, grit, and debris tracked into the building.
Use a soft broom or microfiber dry-mop daily to remove dust, dirt, and debris from hardwood surfaces.
Vinyl & Laminate Floor Cleaning Solutions
Vinyl plank is a popular flooring alternative to hardwood or carpet that makes cleaning and sanitizing easy. However, proper vinyl floor cleaning services and laminate floor cleaning services are recommended to ensure that you achieve maximum versatility, durability and resilience.
Routine & Preventive Maintenance for Vinyl and Laminate Floors
Use entryway floor mats to collect dust particles and dirt. Similar to hardwood, vinyl and laminate flooring are susceptible to scuffing, scratches, and other damages that can occur in high-traffic areas
Dry sweep flooring daily with a flat mop to remove dirt and dust from surfaces between deeper cleanings. Its shape makes it ideal for cleaning under furniture
Use automatic floor scrubbers for light-duty cleaning in between wet-mop sanitizing
Power-buff areas if needed to remove difficult stains and scuffs
When deep cleaning and sanitizing, use an eco-friendly multi-purpose floor cleaner that emulsifies the build-up of ice-melt chlorides, hard water, and scum, removes scuff marks and surface scratches, and cleans and restores surface shine
You should also use a two-bucket system to eliminate cross-contamination between clean and dirty water sources. Charging buckets hold enough in one bucket for an entire shift, making them ideal for healthcare facilities
Carpet Floor Cleaning Solutions
Carpeting is commonly recommended for schools, offices, and healthcare facilities because of its ability to trap dust, dirt, and allergens to improve indoor air quality. However, soil, bacteria, and odor can quickly make carpet flooring unsanitary without proper maintenance and care.
Routine & Preventive Maintenance for Carpet Floors
Vacuum frequently and thoroughly to prevent dust, dirt, and allergen build-up in carpet fibers.
Treat high-traffic, heavily-soiled areas with a low-moisture encapsulant or foam cleaner that crystalizes dirt and then vacuum immediately following the recommended application.
Spot-clean high-traffic areas using hot water and alkaline detergent to separate and rinse the soil from the carpet.
Restorative Floorcare
Restorative floorcare is performed at least once or twice a year in most schools, universities, and commercial buildings, preferably during low-traffic periods, such as summer break or over the holidays.
When incorporated as a part of your building's routine maintenance schedule, restorative floor cleaning services can significantly improve the appearance, sanitation, and life span of hardwood, vinyl, laminate, and carpeted flooring.
Restoring Hardwood Floors
Annually or Bi-Annually
In severe cases, a professional hardwood restoration process can involve stripping, sanding, patching, staining, and top-coating wood surfaces.
For routine annual upkeep, maintenance teams can use refinishing products that provide a semi-gloss polyurethane finish to restore luster and create a protective barrier against dirt, debris, foot traffic, furniture and other elements.
Restoring Vinyl & Laminate Floors
Annually or Bi-Annually
Use a concentrated solution to strip the wax surface and remove yellow tints and stains. Apply multiple coats of a commercial-grade hard floor sealer finish that is UV protected and hand sanitizer resistant to restore the protective shield, polish and shine of vinyl surfaces to an almost mirror finish.
Restoring Carpet Floors
Quarterly, Bi-Annually, or Annually (depending on carpet resilience and traffic volume)
Use a bonnet machine or carpet extractor, which utilizes hot water and agitates the carpet surface to work cleaning solutions deep into carpet fibers, lift out stubborn stains, disinfect, deodorize, and restore the color and brightness of your carpeting.
The Finishing Touches On Your Floor Cleaning Strategy
Document and implement a structured floor cleaning schedule. Be sure to specify what, when and how to use high-quality floor cleaning products to maximize the time, cost and effort required between restoration cycles. At a minimum, your schedule should include the following activities:
Daily
Dust-mop and vacuum high-traffic areas
Spot clean entryways
Use automatic floor scrubbers for light-duty cleaning
Weekly
Vacuum, clean, treat and rotate entryway mats
Disinfect and sanitize high-traffic areas
Remove visible stains, soil build-up, and grime
Monthly
Deep clean to lift stains and sanitize surfaces
Repair damages and buff out surface scuffs and scratches
Apply a coat of floor restorer to polish and protect surfaces
Source versatile, eco-friendly, multi-purpose floor cleaning products. These products are powerful enough to perform multiple functions, including emulsifying, disinfecting, spray-buffing, sealing and polishing — without the need for an arsenal of harsh chemicals.
At Office Basics, we provide a wide range of products for the eco-conscious consumer, including cleaning products. Click here to learn more about our products and equipment.
Seek programs and services that incorporate ongoing staff training and education as part of your floor cleaning solutions. On-site and online access to training and consulting services will ensure that facilities teams implement the best practices and source the best products.
Interested in lowering procurement and labor costs, streamlining processes, and supporting environmentally-sustainable practices? To learn more about our training and consulting programs or to schedule a floor consultation, contact us at 800-541-5855 or solutions@officebasics.com.