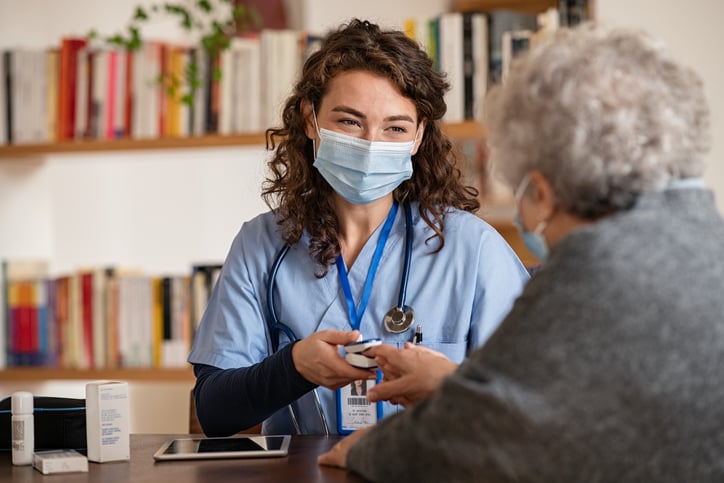 Do you know that empathy is the secret ingredient to patient happiness? Physician empathy accounts for 65% of patient satisfaction, with one definition of empathy being "the recognition and validation of a patient's fear, anxiety, pain, and worry."
A conscientious medical office or dental office design can help patients feel that their physical and emotional comfort is a priority from the moment they walk in the door.
Here are three elements of design that can help cultivate an empathetic, "patient-first" atmosphere.
Hygiene
The Centers for Disease Control and Prevention found more than 40% of people postponed medical care because of coronavirus concerns. And it recently warned of the "serious public health threat" of preventable illness outbreaks resulting from children falling behind on routine vaccinations.
Pandemic or no pandemic, no patient wants to feel like they might leave a doctor visit with an illness they didn't have when they came in.
Temperature check stations and hand sanitizer stands are the first line of defense against germs, as are vigilant cleaning protocols such as sanitizing high-touch areas throughout each day.
To make that work easier, Office Basics offers a variety of cleaning supplies and even carries BIC PrevaGuard Clic Stic Antimicrobial Pens, which contain built-in protections to suppress bacteria growth.
Extra attention to hygiene not only keeps everyone healthier, but it can give patients peace of mind knowing that your office is taking steps to prevent the spread of illness.
Comfort
No one likes to be kept waiting for too long, especially patients who might already be feeling anxiety — in fact, Cardiovascular Business reported 20% of patients switched providers because of uncomfortable wait times.
While no feat of medical office design can make wait times shorter, comfortable seating will make those minutes feel less arduous.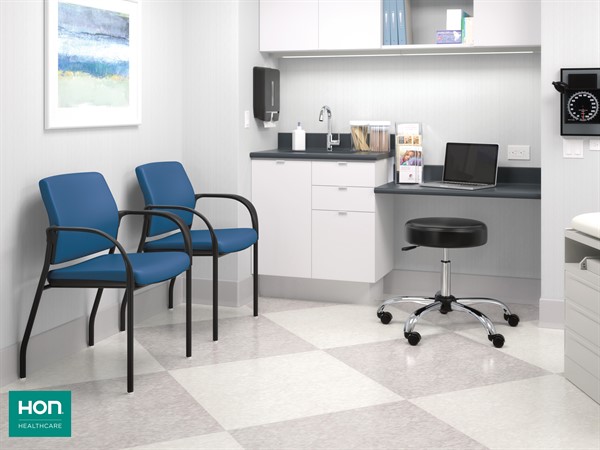 Office Basics offers several seating options for public spaces within medical offices, including HON's Accommodate Guest Chair, which boasts a sleek design and subtle colors to blend in with any decor.
The HON's Soothe Guest Chair, designed specifically with healthcare settings in mind, has a minimal design, subtle curves and colors based on positive psychological color theory.
The need for comfort certainly doesn't end in the waiting room, however, which is why HON also carries a Soothe High-Back Patient Chair.
HON fabrics are approved for healthcare use and are able to be wiped and disinfected using an HDOX cleaner.
Other ways to help ease patients' anxiety while they're waiting, according to the American Medical Association, include "uplifting designs" such as artwork featuring realistic natural settings or people interacting in positive ways. (Note: abstract art can actually increase anxiety.)
"Positive distractions" such as magazines, a TV playing a patient education loop, plants, or even a fish aquarium can also help patients feel more comfortable while they wait.
Staff Efficiency
From a design standpoint, the American Medical Association recommends team stations or pods as one way to "improve practice efficiency and strengthen culture."
The organization suggests placing exam rooms close to the team work area because it reduces the travel time between tasks and enables team members to communicate easily throughout the day. This can cut down on email use and promote more prompt task completion.
Workstations placed near exam rooms also improve patient flow management because team members can see which rooms are available.
The increased collaboration and efficiency can help reduce frustration and stress for staff. Calm, happy caregivers make for a better patient experience.
Patients and staff alike will appreciate it when you add partitions to the team station to protect patient privacy, which is paramount in a medical setting.
Show you care
A great medical office design can't replace what patients really want from their healthcare experience: a knowledgeable and caring provider who really listens to them.
A design that prioritizes hygiene, comfort and efficiency, however, can provide visual representation that your medical or dental office is dedicated to providing that experience.
Let our experts help you reimagine your medical office design. Contact us for a consultation today!