Your office says a lot about your company. The physical environment reflects your values and shapes your office culture. It defines your brand identity and can speak volumes to your employees, interviewees and clients. Depending on its layout and design, your office space can act as a deterrent or catalyst for creativity, innovation and collaboration.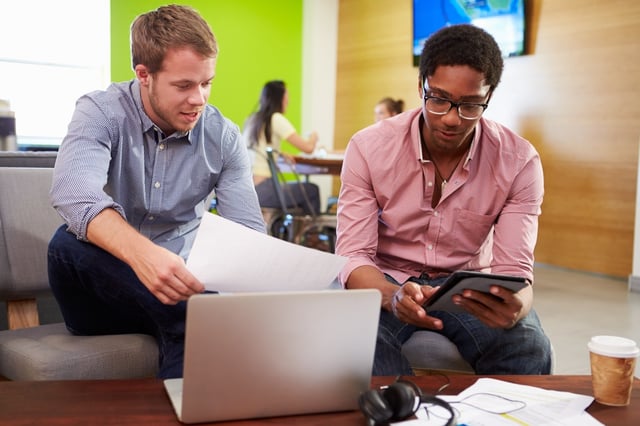 If you're thinking of completely redesigning your office space, or just making a few adjustments, take a look at these 3 ways your office helps set your business culture.
Impacts Your Employees
How your workspace looks has an enormous impact on your employees. Your office design can negatively affect your staff members' productivity, focus and overall mood. It may be hard to believe, but your furniture, office accessories and even the wall color can mean the difference between job satisfaction and a record drop in morale.
When employees know a well-lit, cozy and inviting office awaits them, they can actually look forward to coming into work. Adding some character and personality to your company's office will inspire innovation and foster creativity. Think natural light instead of buzzing fluorescents, yoga ball chairs and other seating alternatives to stiff desk chairs, brighter wall colors rather than an all-white space. All of the above will be a vast improvement to a sterile, monochromatic work environment.
Sure, there are other factors that influence an employee's happiness, such as salary, health benefits and the noxious smell of a coworker's lunch. But there's no denying that a positive, welcoming work environment can lead to a boost in productivity and contribute to a company's long-term success.
Affects Your Interviews
An interview isn't just for your company's benefit. At the same time you're learning more about the candidate and seeing if they're a good fit for your company, your interviewee is also deciding if they can picture themselves working in your office and in a specific job role. An in-office interview gives them the perfect opportunity to evaluate your office space and determine if it's a cultural fit.
Even in the short walk from reception to the interview room, candidates can take in the design and atmosphere of the office. Cubicles filled with personal items, wall hangings and even the lighting can serve as visual cues of how laid-back or reserved the atmosphere may be. Personal touches can convince potential employees that while your company does understand the importance of delivering consistent, exceptional results, they can also have fun while doing the work.
Influences Your Clients
Your office design communicates your business ideals and image to potential clients or existing customers. Your clients aren't going to take you seriously if your office space is designed poorly.
The reception area is their first impression of the company. Therefore, it should not only impress visitors, but also clearly indicate the company's values. You should consider your clientele and company's personality before designing the reception area and interview room. You could add comfortable furniture, homey lighting and other decorative accents to ensure clients feel welcome.
Your clients will also take work areas and employee-dedicated spaces into consideration. A positive, welcoming work environment shows your dedication to your employees and displays the company's character.
Your office space influences how employees, interviewees and clients view your company. Changing your office design can help improve your company culture and job satisfaction.
Are you ready to redesign your office? An office furniture dealer can assess your company's needs and develop a design plan that maximizes your space and fits within your budget. Learn more here.