Is your office desperately in need of a redesign? Consider incorporating movable furniture and a wall system into your new design. Movable office furniture improves the functionality and design of an office space.
If you think movable walls and office furniture could be a good fit for your office space, take a look at these reasons why movable office furniture is the way to go.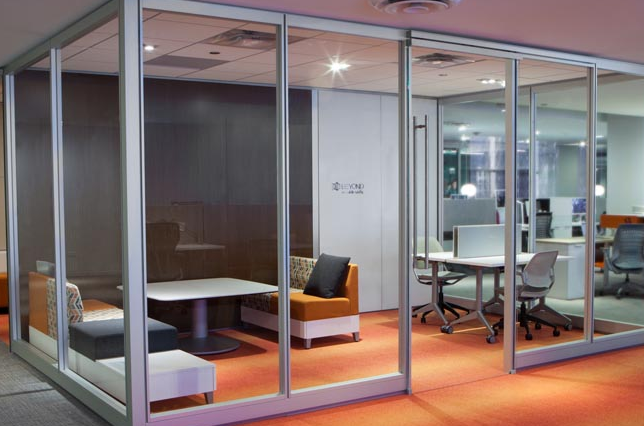 Cost Saving
Saving money is almost always a priority for businesses. By installing a movable wall system into your office, you'll save a significant amount of money because all of the components (wiring, windows, framing, etc.) are already built directly into each wall section. You can install the system yourself in a matter of days and without the assistance of contractors.
Most modular items today are designed with quality laminate as opposed to more expensive traditional wood materials. This allows for a new, cost-effective functional design for your office space.
Less Damage
Wall systems are easy to install and, therefore, less damageable than building a wall with all of the hassle and potential damage that comes along with the task. Unlike traditional wall construction methods, you won't need to cut into existing walls or damage the current structure in any way. Similarly, other types of movable office furniture are easily repurposed and leave less damage when relocated in the office space.
More Flexibility
Besides less damage, movable office furniture and wall systems allow for more flexibility. Modular items can be updated frequently to add technology components or fit a new space. If you decide you need a break room on the spur of the moment, you can simply reconfigure the system and create the new space in no time at all.
Improves Employees' Productivity
What if I told you that investing in movable office furniture can actually increase your employees' productivity? By supporting an open and collaborative environment, modular items can encourage employees to exchange ideas, while maintaining a comfortable and inviting atmosphere. Your office design will boost innovation and engagement, leading to a significant increase in employee morale and, as a result, work productivity. After all, happy employees mean a more successful company.
A more functional office space, cost savings, and an increase in employees' productivity are just a few of the benefits offered by movable office furniture. If you're ready to discover the countless other advantages, check out our selection of movable walls or contact us today for more information.