When redesigning an office, you may consider the wall color, couches, desks and even plants, but what about the office chair? Your employees spend the most time in your office sitting in their desk chair, so you want to make sure it's not only affordable but comfortable.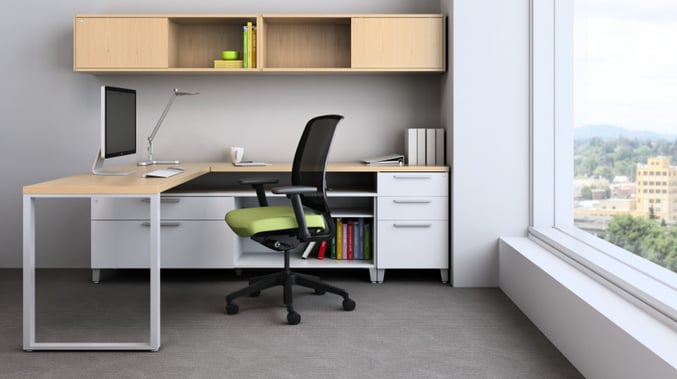 If your employees work 40 hours a week all year long, that adds up to about 1,900 hours a year just sitting in one chair. That's 1,900 hours of your employees experiencing great support and comfort or wearing out their backs, possibly causing carpal tunnel and in turn decreasing productivity – all because of a chair. To ensure your employees remain happy and healthy, we've rounded up a few ways to find the perfect office chair.


Adjustability
The perfect office chair should be adjustable. Your employees come in all sizes, so it only makes sense that your office chairs would accommodate various heights, weights and body types. To prevent injuries and discomfort, and time out of the office as a result, your employees should be able to adjust their chair so their feet rest on the floor and the arm height matches the height of their desk. Most chairs will offer height and arm adjustment, but don't forget the importance of lumbar support, adjustable seats and tension control. The more adjustability options, the more comfortable your employees will be.


Wheels
Wheels may be the last thing you think about when deciding on an office chair, but, if you want to keep your employees healthy, they're actually an essential component in chair design. The ability to roll around allows easy movement and prevents straining. If an employee's paper clips or tape dispenser are out of reach on their desk, they may reach for it and strain their muscles. When their chair has wheels, they can roll around their work area instead of reaching too far. Fortunately, most chairs include wheels for mobility in the office, so it won't be difficult to find a chair with wheels.


Durability
Falling off of a barstool is one thing – falling off of a chair at work is a different matter altogether. No one wants to face the embarrassment of breaking their chair in front of their coworkers and ending up on the floor. That's why it's crucial to find a durable office chair that will stand up to prolonged use. Consider the materials used for the cover and joints. Leather and mesh-fabric are the best options for the cover, while metal over plastic is ideal for the arms and legs of the chair. Investing in a sturdy, long-lasting chair will save you money over the long run and help your employees avoid embarrassing chair breakage.


Comfort

There's no denying comfort is key when choosing a chair. Yet, all too often, business owners face the challenge of finding a chair that is comfortable but not so comfortable that they set off a snoozefest. No one wants to be sitting on a rock all day, but something too soft and cushiony may have your employees sleeping during the afternoon lull.

A memory foam cushion can solve this conundrum. It will gently mold to your employees' body shapes while offering great support. Not to mention, other seat cushions will wear out quickly. Also, don't overlook the importance of the chair frame and other features such as the head, arm and back rests. Make sure all of the above elements work together to create comfortable seating.


Finding the right chair will move you one step closer toward creating a happier, healthier and more productive work environment for yourself and your employees. If you're searching for the perfect office chair and have no idea where to look, check out our wide selection of office chairs here.