Printing is an essential function of most businesses, even in today's digital-first world. It's one of those business processes most people don't think twice about – until something goes wrong. Here are some common scenarios:
You and the rest of your IT department have been crazy busy the past couple of weeks as you deal with implementing new technologies. You have tons of tasks on your to-do list, but everything has been pushed back because you've been dealing with printer issues all day long. Now, you're way behind and the boss is mad at you!
You're preparing your budget for the coming year and realize you spent 40% more than you anticipated on printing. You comb through all the invoices to find out why, but it's a huge mess. There are too many vendors, too many types of paper/toner being ordered, and too many people doing the ordering! You have no idea why you spent what you did and how you can begin to cut costs for next year.
A managed print services (MPS) program solves these challenges and more. Some of the benefits include automated supply replenishment, reduced burden on the IT department, streamlined vendor relations and invoicing, increased printer security, and reduced print costs.
(Learn more about managed print services in our blog, Managed Print Services: The What , The How, and The Why.)
No matter what benefits you hope to achieve with an MPS program, a quality managed print services provider will always follow these four steps.
managed print services: A Four-Step Process
1. Assess
The first step is to assess and analyze your current print environment. If a managed print services provider gets this wrong, everything else after will be wrong too. It's important they take their time and be thorough.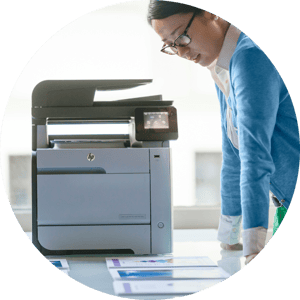 Here is some of what you can expect during an assessment:
A walkthrough of your print environment. This can be physical, virtual, or a combination of both. The goal is to gain a visual understanding of your printing infrastructure and layout. Part of this walkthrough will include discussions about what departments print to which device. The MPS provider will use this information to analyze workflow and usage patterns.
Analysis of the health and efficiency of every printing device in your fleet.
Assessment of supplies such as toners, cartridges, and paper. This assessment will include data about usage, ordering processes, and costs.
Analysis of your total print spend over a certain period of time.

Analysis of your printer security and carbon footprint.

A detailed report of our findings including how your current print environment can be improved.
Did you know we provide all our customers with a FREE, no-obligation managed print services assessment? Claim the free MPS assessment here.
2. design
After the managed print services provider has analyzed the data they've collected, the next step is to design your new print environment. The goal of this phase is to optimize your print environment for efficiency, cost-savings, productivity, and sustainability. The design of every print environment is different, based on the needs of the organization and what they already have in place.
Here are some examples of what could happen in a new print design:
Old and/or inefficient machines are taken out of the print fleet.
Printer placement is rearranged to optimize print flow and reduce costs.
New machines are brought in to increase efficiency, centralize printing, and/or reduce costs.
Supply replenishments are established, such as which brands and how much.
Storage is rearranged to optimize workflow and efficiency.
Once the new design is approved by all parties involved, it's time to move on to step 3 – implementation.
3. Implement
The success of the implementation phase rests on the project management skills of the MPS provider. The goal is to be efficient, strategic, and non-disruptive. There are four parts to this phase:
Planning
The MPS provider plans exactly how the implementation process will occur. In simpler environments, this is relatively easy. In more complex environments, the planning requires strategic thinking. For example, if a company has multiple office locations, the MPS provider will need to determine how to roll out the implementation across the entire company.
Moving/Installing
Once the plan is in place, it's time to implement the new design! Old machines will be removed and new ones will be installed. Other machines will be moved around, depending on the specs of the new design. Storage of supplies may be relocated. Relevant MPS software will be installed as well.
Training
During this phase, employees are trained on the new machines, as well as any print policies and procedures. These might include printing policies to reduce costs, as well as printer support/repair procedures.
Troubleshooting
Despite the best-laid plans, there are bound to be hiccups. As lead project manager for the implementation process, your MPS provider should be able to troubleshoot any issues.
Communication is key to the implementation phase. Be clear with your MPS provider about your expectations. This helps avoid disruptions, mistakes, and frustrations. On the flip side, an MPS provider should communicate regularly and seek clarification as needed.
4. MANAGE
This is the final – and ongoing – phase of the managed print services process. It's also the best phase because it's when you begin reaping the benefits of a managed print services program. There are many components to this phase such as:
Automated supply replenishment
Troubleshooting and support
Monitoring of print usage and flow
Regular reporting and metrics
Service and repair
It is important that the details of this phase are specified in your managed print services agreement. You don't want to be surprised or disappointed later.
A good MPS provider will never just sit back and passively manage your new print environment. Instead, they will continuously look for ways to improve efficiency, productivity, and cost-savings.
Your MPS provider should be more than just a vendor. They should be a strategic partner to your organization, invested in helping you succeed. If your MPS provider regularly suggests ways to improve, it's a good sign you've signed on with the right company.
If you're interested in managed print services, download our free guide to managed print services today. You'll learn the ins and outs of MPS, as well as some of the common challenges and pitfalls in the current printing landscape. Plus, you'll gain access to a printable checklist to help you vet MPS providers, as well as a list of questions to ask.
A free, no-obligation Managed print Services Assessment
At Office Basics, we often say we're big enough to matter, but small enough to care. We strive to be a strategic partner to all our customers, taking the burden of those behind-the-scenes processes off their shoulders so they can get busy doing what they do best. Our commitment to excellence in customer service is unparalleled in our region.
During our free Managed Print Services Assessment, our Print Solution specialists will thoroughly analyze and assess your current print environment. Once the assessment is complete, they'll produce a report detailing their findings, as well as recommendations for optimization and cost-savings. At Office Basics, we guarantee pricing on service contracts for up to five years.
Ready to move forward? Reach out today to schedule your FREE managed print services assessment.