More and more companies are turning to managed print services to help them manage and optimize their printing environment. Here are some reasons why:
The average employee's printing habits cost companies $725 per year.
Companies that try to guess how much they'll spend on printing costs underestimate by 30% - 40%.
IT departments spend an average of 15% of their time fixing print-related issues.
Mismanaged printing fleets are costing organizations up to 3% of total revenue.
In this article, you'll learn the what, the how, and the why of managed print services. Armed with this knowledge, you can decide whether it's a good option for you and your organization.
[Download our free, comprehensive guide to managed print services.]
What is Managed Print Services?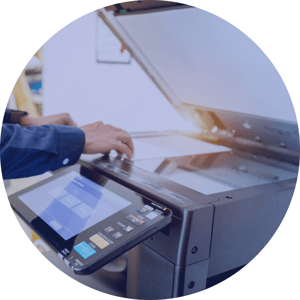 Gartner defines managed print services (MPS) as "services offered by an external provider to optimize or manage a company's document output."
But what does that mean?
In a nutshell, managed print services streamline and optimize your printing environment, saving you time, money, and frustration. They reduce the burden on your IT team, freeing them up for more important issues and concerns.
For instance, say a company has multiple offices, each with their own printers and copiers. With managed print services, they'd be able to:
Accurately track and budget their print spend across all locations.
Optimize each printing environment for efficiency and cost.
Streamline vendor relations and invoicing.
Automate supply orders.
Relieve their IT department of the burden of dealing with printer/copier issues.
If your company has a high print volume and/or a large number of printers, managed print services could be a good fit.
Why use managed print services?
There are several reasons companies turn to managed print service providers for help. Here are some of the reasons we often hear:
"My print costs are climbing, and I can't figure out why. I'm not sure if it's a printer issue, an ordering issue, or a combination of both. I'm in the dark."
"Our printers and copiers are a constant strain on IT, causing headaches and frustration when they have more pressing issues to deal with."
"I feel like every time I turn around, there's another purchasing order for toner that went through. I can't get a handle on the printing budget because it's all so disorganized. I want to work with one vendor who can help me budget properly, reduce costs, and streamline ordering."
Managed print services solve these problems and more by providing automatic supply delivery, transparency in cost and budget, and support that takes the burden off the IT department.
what does a managed print services provider do?
At this point, you may be wondering, what does an MPS provider do? How does it all work? To understand what managed print services providers do, it helps to learn the process: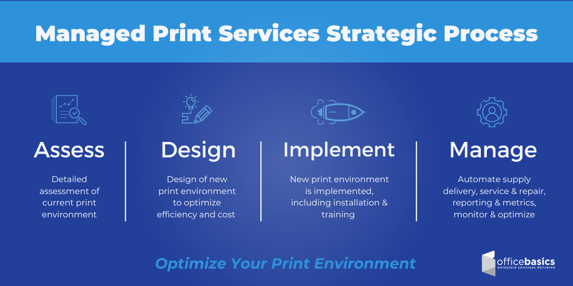 Assess
The first step to optimizing your print environment is to understand where it is right now. An MPS provider will assess your current print usage, paper flow, copier/printer hardware placement, and more. They will analyze their findings to figure out where the weaknesses are and how to best optimize your print environment for success.
Design
Once the assessment is complete, an MPS provider will design a more efficient and cost-effective printing environment. For instance, if they found that one of your more inefficient printers was handling the highest volume while the printer down the hall is better suited for high-volume prints, they would flip-flop the two.
Implement
Now that you've agreed on a new design, the next step is implementation. Depending on the size and scope of the project, this could take a couple of weeks or up to a couple of months. No matter how long the process is, the MPS provider should handle it all – from installation and set-up to employee training.
Manage
This is the best part of the process because it's when you get to sit back, relax, and let your MPS provider take care of it all. A managed print services provider will automate your supply delivery, as well as troubleshoot and monitor your printing environment. They will also provide you with regular reporting and metrics.
An important part of this phase of this process is continuous optimization. A quality MPS provider won't rest with just managing your print environment. Instead, they will seek to further optimize your print fleet at every turn, as well as evolve with your organization as it grows and changes.
[Learn more about this process in our blog, 4 Steps to a Quality Managed Print Services Program.]
are managed print services worth it?
This is the question every CFO, IT manager, or office manager asks themselves when deciding whether to invest in managed print services. And it's a valid one. After all, managed print services are not for everyone. For instance, if you run a relatively small operation, with just a handful of printers or copiers, MPS is probably not a good fit. On the other hand, a medium to large-size company with a high printing volume and/or multiple printers and copiers would likely benefit from an investment in MPS.
The main factors to consider when deciding whether managed print services are worth it are:
Number of print/copy devices
Volume of printing
Number of office locations/size of office
The following are some of the benefits of managed print services.
Benefits of Managed print SErvices
Controlled Costs – With a streamlined printing environment and only one vendor to deal with, your printing costs will be something you can control and plan for. An MPS provider will optimize the supply delivery, so you don't overstock or understock necessary print supplies.
Less Burden on IT – Did you know that roughly 12% of a company's IT budget gets drained by printer repair and maintenance? If you're tired of listening to your IT staff complain about having to fix the copier, a managed print services provider can help. They take care of all printer/copier issues, relieving your IT department of that burden.
Automated Supply Fulfillment – No more checking each device to see if the toner is low! An MPS provider will receive an alert from the printer/copier when it's time to replace the cartridge. A purchase order is automatically created and voila! The toner is at the office, ready for when it's needed.
Support and Repair – Not only will an MPS provider field calls and messages from your employees about printer issues, they will also receive error alerts from the hardware itself. If there is any support or repair needed, your managed print services provider will take care of it.
Security – Cyber-security risks threaten all companies, big and small. An unmanaged printer is a risk. Managed print services help ensure every piece of hardware connected to your network is up-to-date and secure. MPS can also provide support for document security.
Transparency and Reporting – MPS takes the guesswork out of understanding your print costs. You'll have complete visibility of your end-to-end print operations. With regular reporting and metrics, you'll know exactly what you're spending and why.
Continuous Monitoring and Optimization – As your company grows and changes, so will its printing needs. A managed print services provider will continue to monitor and improve your printing environment to fit your emerging needs.
What about sustainability?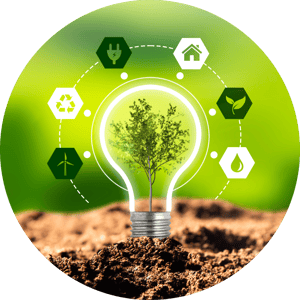 Many companies are concerned about their environmental impact. They look for ways to increase sustainability and lower their carbon footprint. Managed print services can help an organization meet both those goals by:
Reducing paper waste.
Recycling ink and toner cartridges.
Reducing energy consumption.
Partnering with printer/copier manufacturers who prioritize sustainability.
At Office Basics, we place a high priority on sustainability. No matter what type of ink/toner you use, we make it easy to recycle the cartridges. Simply give us your used cartridges when we make a delivery, and we'll take care of it for you!
how to choose a managed print services provider
If you've decided you want to invest in managed print services, the next step is to choose an MPS provider. If you were to search "managed print services near me," Google would offer up lots of results. But how would you know which provider had the expertise and bandwidth to take on your printing environment?
To help you choose, here are a few questions to consider:
How long has the company been in business? You want to choose an MPS provider that is well-established. If their business were to go under, you'd have to start the process all over again with a different provider.
Can they provide references for other MPS clients you can speak to? Anyone can say anything on a website, but they can't put words in their customers' mouths.
What exactly is included in the service agreement? For instance, what are the service turnaround times?
Who will be answering employees' calls and providing employee training on new printers and copiers? How is their customer service?
Who is your main point of contact? Do you have a good feeling about that person? Is he/she knowledgeable and responsive?
How will the MPS provider continue to track, monitor, and optimize your printing environment? What features and processes are in place?
How will the MPS provider grow and scale with the needs of your company? Can they accommodate a hybrid workforce with hybrid printing needs?
next steps
Hopefully, you now have a more complete understanding of managed print services. If you've decided MPS isn't for you, that doesn't mean you can't trim costs and streamline your ordering processes. Talk to your office supplies provider to determine the best options for your needs.
If, on the other hand, you think MPS might be a viable option, the next step would be to reach out to a few MPS providers to dive into the details.
At Office Basics, our strategic managed print services programs can reduce your printing costs by up to 30%. Our Print Solutions Specialists work with you to understand your company's printing needs, volume, and current spend. We guarantee pricing on service contracts for up to five years.
With industry-leading software that keeps track of your print usage and automates supply replenishment, you'll never have to worry about running out of cartridges again. We offer next-day delivery with no minimums.
We also provide transparent reporting and metrics, so you can accurately budget for printing. Our Print Solution Specialists will track and troubleshoot printing errors and issues, freeing up your IT staff to focus on more important issues.
Worried about security? Our machines offer security features to keep networked printers, documents, and data safe. As an environmentally conscious company, we'll show you ways to reduce your carbon footprint. Benefits include our free toner recycling program, along with ways to save on electricity and paper.
If you're ready to move forward with managed print services, book a free assessment with one of our Print Solution Specialists today!