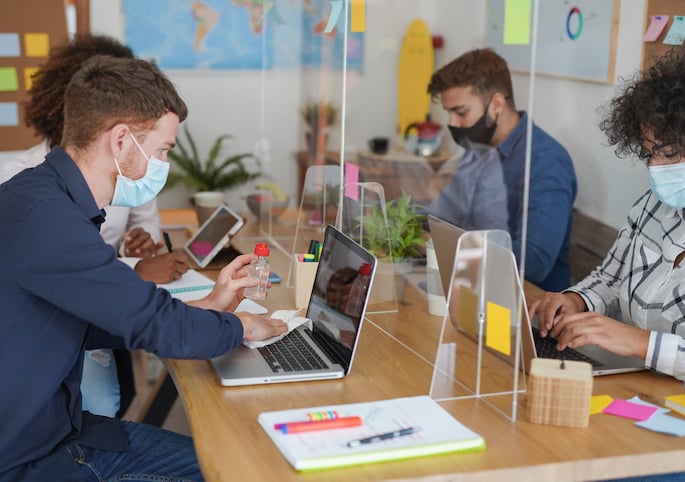 In an increasingly agile work environment where companies have adopted a hybrid model of in-person and remote work, solid walls and other fixed structures are waning in popularity.
Workstation dividers play a crucial role in this new environment, transforming the layout of your workspace in minutes to accommodate the safety and privacy needs of those in the office that day.
While modern office design has morphed from drab-colored rows of partitions with people working in isolated cells in favor of large, open areas with comfortable furniture, strategically-placed partitions of varying styles and sizes can support a collaborative workspace.
Learn about the benefits of office partitions, the types available, and the creative ways people are using them, particularly in a collaborative office environment.
Advantages of Workstation Dividers
Today's workstation dividers are visually appealing, come in various shapes and sizes, and can perform multiple functions beyond the purpose of providing private workstations.
Health and Safety
While larger companies like Google aren't reopening their offices until summer or fall, others will reopen much sooner, but with safety precautions in place.
The COVID-19 pandemic has increased the demand for multipurpose dividers and companies are using them in creative ways to ensure employees are safe when they're working in the office.
By setting up workstations 6 feet apart and incorporating various types of dividers throughout the office, you can use partitions to create layouts that promote social distancing and safe workflows.
This is particularly important for your high-risk employees since partitions can also guard against germs.
Consider using office dividers to create a disinfecting station containing items such as disinfectant, clean masks, hand sanitizer and other essential products that should be part of your wellness plan.
In fact, consider using dividers post-COVID, such as during flu season, to reduce the spread of illness in the office.
The great thing about modern dividers is that it's easy to change back to a more open-plan office layout when it's safe to do so.
Get Your COVID Essentials Business Plan
Privacy Without Isolation
In a collaborative, innovative environment, employees still need private workspaces, even if it's only for short periods of time.
Partitions can block out visual distractions and reduce noise, increasing productivity for your employees who are working on a project or task that requires continuous focus.
In a collaborative workspace, when someone sits in one of these stations, it's like a closed door, signaling that right now, they need some alone time.
Real Estate Optimization
In an agile work environment, your office needs may change from day to day, depending on who's in the office that day and the type of work they're doing.
On days when the office is more crowded, you could add workstation dividers to reduce noise. For events such as all-hands meetings and trainings, you can easily transform the space into a large, open room.
The ability to change your office's layout in minutes to suit the event, meeting or workday is a huge benefit of today's lightweight, mobile dividers.
By using a variety of workstation dividers, you can create the versatility needed to accommodate the ever-shifting floor plan that a hybrid workforce of remote and in-person employees demands, such as instant meeting rooms when conference rooms are unavailable.
Types of Workstation Dividers
We've listed examples of workstation partitions below from smallest to largest. Most offices will use a combination of some or all of those listed below:
Privacy Screen
One of the complaints of open office spaces or unassigned seating is the lack of privacy and personal space.
Your employees can add a small privacy screen to shared desks, tables and other business furniture for both privacy and focus while still remaining in an open workspace.
This can be a subtle signal to their co-workers that they need uninterrupted time. When they are ready for conversation, they can easily remove the screen.
It can also serve as a guard against germs that might otherwise spread from one desk to another.
Mobile Dividers and Stackers
While an open office space invites collaboration and offers more flexibility, there's less storage space. This means some of your furniture needs to have more than one job.
Mobile dividers between desks can section off part of a room while serving a dual purpose, such as filing, while stackers allow additional storage on top of existing partitions. Even small partitions can give employees a sense of having their own territory within an open space.
Panel Cubbies
Tall with three sides, panel cubbies can be paired with a sofa-like single seat, such as our West Hill Single Seat Lounge and a small table to create a semi-private work station or a disinfecting station.
Employees whose desks are in an open space can use these stations when they need more focus and privacy than a privacy screen allows.
These single sofa seats also work well when a group of them are used behind mobile panels to section off a part of a workspace for meetings and noise reduction.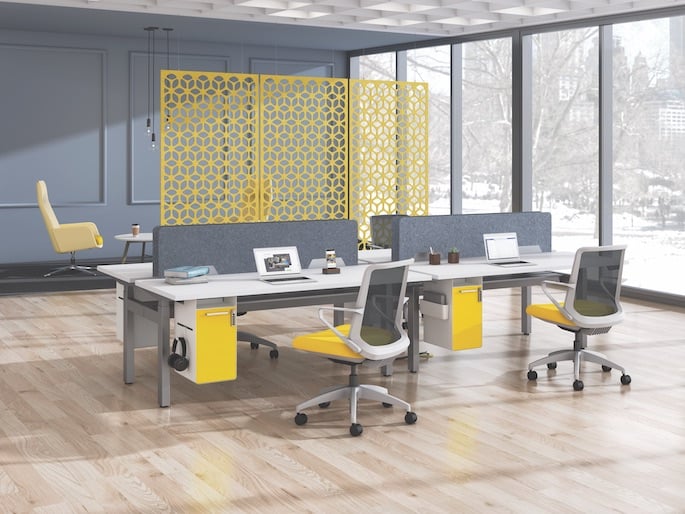 Modular Flex Glass Walls
Companies are knocking down fixed, opaque walls in favor of these working walls. They provide more privacy and greater noise reduction than regular partitions, but because they are transparent, your employees will still feel connected to the rest of the office space.
Your office design and furniture also communicate your brand and values. If your company values transparency and equality, these glass walls are a physical way to communicate those values.
Office Reopening Essentials
While workstation dividers can play an important role in reconfiguring your workspace for safety, have you considered necessities like appropriate signage, personal protective equipment (PPE) and other safety supplies?
No one expected a pandemic and now that you've finally figured out remote work, you'll soon have to pivot once again when you return to the office.
But don't worry.
To ensure you've covered all of the bases, we can develop a personalized plan to help your business reopen safely. Get your COVID-19 essentials plan today.