Most people try their hardest to avoid thinking about the impending fall season while they're still in the middle of summer. But marketers don't have that luxury. They have to prepare for their fall campaigns!
In today's increasingly digital world, marketers sometimes overlook promotional products when planning marketing campaigns. Yet, promotional products are very effective forms of advertising and branding. It could be argued that they stand out even more now that most marketing is digital rather than physical.
Interesting Stats About Promotional Products
Promotional Products are U.S. consumers' favorite form of advertising regardless of age, gender, or geographic location.

Promotional products are ranked the most effective form of advertising across all generations.

70% of brands consider promotional products mostly or always effective in achieving marketing goals.

88% of consumers who received a promotional product could recall the advertiser's name.

85% of consumers have done business with an advertiser after receiving an item.
For more fascinating stats about promotional products, check out 25 Promotional Products Stats You Need to Know.
When Should You Order Promotional Products?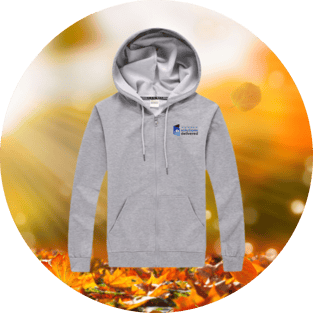 Promotional products typically require at least 4-6 weeks turnaround time. Of course, most companies will do their best to turn it around quicker if you need, but that is a recipe for extra fees, stress, and mishaps.
We recommend placing your order 6-8 weeks before you need it in hand. Ideally, you should begin working with a promotional products supplier at least two months before your campaign. This might seem like a lot of time, especially when we're so used to things happening in nanoseconds with digital marketing, but planning this far ahead allows you to:
Choose the best promotional product to achieve your marketing campaign goals.

Actualize your vision for the design, including time to iterate a few versions before landing on the final one.

Catch mistakes and errors, or change your mind about the design or product.

Not stress or freak out about how long your promotional products might take to be delivered.
Now, to the fun part. When choosing promotional products for your fall marketing campaigns, it's helpful to imagine what your target audience might be doing. Maybe they're football fans. Maybe they're in back-to-work / back-to-school mode. Maybe they're outdoorsy. Taking the time to research your buyer persona's fall habits will help you narrow in on promotional products that they'll enjoy AND find useful.
(For summer campaign inspiration, take a look at our Top 15 Summer Promotional Products for 2023.)
Top 15 Fall Promotional Items
This portable chair folds down and fits into a compact carrying bag with handles. Easy to pack and carry, it's the perfect companion for outdoor activities like hiking, camping, and backpacking. It's also great for tailgating and watching your kids' soccer or flag football games.
Speaking of tailgating, this tailgate carryall is another great promotional giveaway. There's a chilled compartment with a removable liner, 3 mesh pockets, easy-to-grip handles, and a collapsible design. It can be used all year round for picnics, camping, and beach outings.
Fall is a popular season for camping and hiking because it's not too cold or too hot. Lightweight and convenient, this multi-tool keychain is a handy giveaway for a fall campaign. It features an LED light, two types of screwdriver heads, a can opener, and a knife.
Fall brings in cooler weather, making this lightweight hooded windbreaker a perfect promotional item for the season. Made of waterproof and windproof polyester fiber and professional-grade TPU coating material, it effectively blocks the penetration of moisture, while also protecting against wind.

5. Reusable and Biodegradable Poncho
Whether you're at a football game, enjoying a picnic, or taking a hike, it's important to be prepared for any weather. This handy poncho is easy to store and carry, perfect for theme parks, outdoor concerts, hiking, camping, sports games, traveling, and other outdoor activities. Reusable, biodegradable, and phthalate free, it also comes with a hood.

6. Hoodie
You can't go wrong with the classic hoodie, especially if it's comfortable, stylish, and soft. It's an item of clothing just about everyone wears, especially in the fall/winter. The hoodie sweatshirt featured here has long sleeves, a kangaroo pocket, a drawstring hood, and wide-ribbed hem and cuffs to lock in warmth.
Bluetooth earbuds are a great giveaway any season, as long as they're quality. We love these because the sound is great AND the case is a charger! With a fun metallic finish, these earbuds have smart touch control and automatically turn on and connect to your smartphone when removed from the case. They also automatically turn off when returned to the case to charge.
When fall comes, people let go of summer and slip into 'get back to work' mode. They're starting the fourth quarter and ready to kick some proverbial – well, you can fill in the blank. These slim, water-resistant, and spill-resistant laptop shoulder bags are a fantastic fall promotional product giveaway. They're sleek, sophisticated, and high quality.
For those who prefer laptop backpacks, these water-resistant backpacks are a great option. They offer light-weight carrying and comfortable straps with a dedicated compartment for your laptop. They also have a place for your keys, wallet, phone, water bottle, and a main compartment that can hold so much more.

10. Power Bank
Having a power source when you're on the go is a must nowadays. These slim power banks are sleek, compact, and convenient. Featuring a 4000mAh lithium ion grade A non-recycled battery, an output of 5 volts/1.0 amp, and an auto on/off overcharging function, they're sure to be a crowd pleaser.

11. Electronic Accessories Case
Portable and practical, these electronic accessories cases are a unique promotional giveaway that'll make you stand out from the crowd. Your prospects will love how easy it is to organize their power chords, power banks, earbuds, and more. The cases are made with durable well-padded water-repellent nylon and lined with polyester inside to secure your gadgets in place.

12. Wireless Charger & Phone Stand
Keeping with the desktop back-to-work theme, this 2-in-1 phone stand and wireless charger is a wonderful fall promotional item. Most people keep their phone next to them at their desk. The dual benefits offered by this promotional giveaway make it a must-have.

13. Wireless Mouse Pad and Charger
Another dual-benefit promotional product, this one ups the ante with a sleek and classy look. It features a soft velour feel for extra control. The mouse pad comes with its own 4' USB Type-C cable and is compatible with all Qi wireless charging devices.

14. Stylus Pen
Pens never go out of 'stylus' when it comes to promotional giveaways! Step up your game and promote your company with a dual-purpose stylus pen that can write physically AND digitally.

15. Sticky Note Cube
Sticky notes are another timeless promotional product. These cubes are great because they offer full-color customization to both the sides and the top. A great desktop item everyone will use, you can't go wrong with sticky notes!
Get a Head Start on Your Fall Campaigns Today
Get a head start on your upcoming fall campaign today by taking advantage of our 20% discount offer on first-time promotional products orders. Our Promotional Products specialists will help you choose the perfect promotional giveaway for your marketing campaign and budget. Click the image below to get started!