Ever since COVID crashed the party in 2020, the office breakroom never looked so desirable!
After months of Zoom calls and kind gestures from employers to their employees, such as an office snacks delivery to their remote workspace, it's almost time to return to the office.
As your organization ramps up for reopening, understand that your office environment might not feel the same behind a mask and 6 feet of distance, which will put a strain on the employee experience you've worked so hard to create.
It may not be time to reinstate potluck Fridays, but that doesn't mean you can't put a new twist on old favorites like the beloved employee breakroom. Here's how to do it safely:
Follow COVID Protocols
Limit the number of employees allowed in the breakroom at once. You can do this by asking employees to sign up for a time slot or scheduling break time in shifts or by department
Implement a cleaning and disinfecting schedule between shifts or periodically throughout the day
Insist that employees wear a mask at all times unless they are consuming food or drink
Rearrange the space to ensure all seating and service stations allow 6 feet of social distance between occupants
Make Employees A Part of The Solution
If staff wants a safe place to snack and converse responsibly, they should take part in creating and maintaining that environment.
Assign a task force to oversee the breakroom experience and make sure they understand sanitation protocols. Provide sanitation cleaners and PPE, and ask employees to wipe down shared surfaces after every use. Post signs to remind them to shop with their eyes, not their hands, and follow COVID protocols.
Invest in the Right Products to Keep the Breakroom Clean
While wearing masks, washing their hands, and cleaning surfaces after use will drastically reduce germs, make it even easier by strategically placing hand sanitizing stations throughout the office, including the breakroom.
Since breakrooms are often small and enclosed, an air purification system can clean the air while UV-C sterilization and charging lockers can disinfect high-germ surfaces, such as cell phones and door handles. Add a divider or screen to breakroom tables as another guard against germs.
Opt For Individually Wrapped Snack Foods & Beverages
Food sharing, including buffets, boxes of donuts, birthday cakes, and even pots of coffee are still on the don't list. But you can pack your pantry full of individually packaged snacks to keep cravings at bay.
The right vendor partner will carry top snack food and beverage brands. This can include items such as:
a variety of individual K-cup coffee pods for easy brew and clean-up
healthy refreshments, such as HintⓇ or SanPelligrinoⓇ flavored and sparkling water
a bevy of snack time favorites to fill your snack station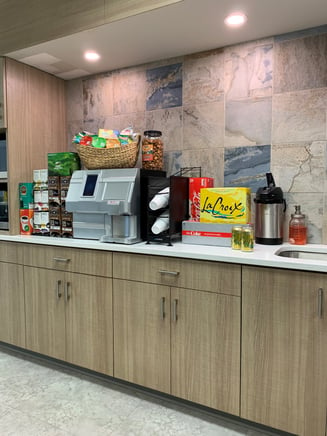 Use an Office Snacks Delivery Service
Equally important is how you acquire your inventory of delectable goodies. Instead of the usual Costco visit to pack your pantry, which can expose employees to COVID, order office snacks delivery online.
Look for a vendor that can offer a robust online marketplace, a simple shopping experience and next-day delivery on orders to ensure a healthy stock of health-conscious snack foods.
Small Effort, Significant Impact
The employee snack room might seem trivial, but in trying times, it can send a strong message of appreciation for all the adjustments that employees have endured over the last several months.
Bringing back the employee breakroom also helps smooth the employees' transition back to office life by incorporating some comforts of home.
From cleaning products and kitchen appliances to office snacks delivery and next-day service, the right office supplies partner will provide everything you need to adapt to the new office environment.
Need more COVID-friendly advice for reopening the office? Download our COVID reopening guide.