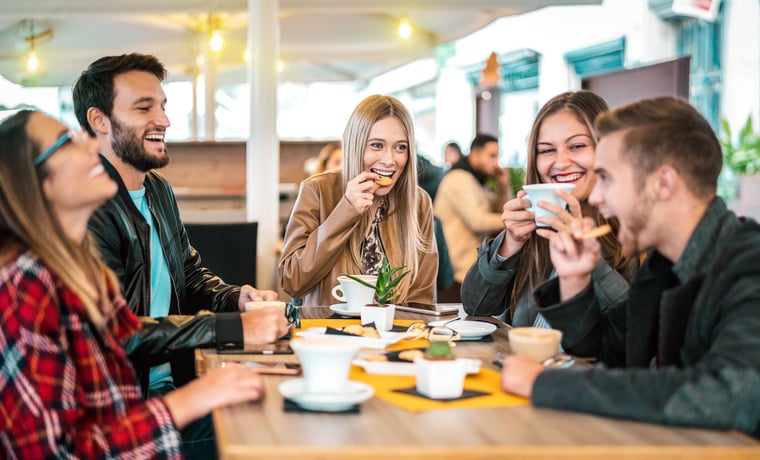 While a simple "thank you" can go a long way with employees, companies are going the extra mile to ensure their well-being and increase employee engagement.
Acts of employee appreciation are far more influential than you might realize and can increase engagement and productivity.
The ways to show employee appreciation are endless, from a simple thank you to an award presented at a company meeting.
But there are indirect ways to show appreciation to all of your employees all of the time. Redesigning the breakroom is a great way to show gratitude with impact. We'll show you how, but first, here's why it works:
Psychology 101: Employee Appreciation
To reach self-actualization, the top of Maslow's Hierarchy of Needs pyramid where talents and capabilities are fully exploited and a person's true potential is realized, the needs on the lower levels of the hierarchy must be met first. Recognition is one of those needs: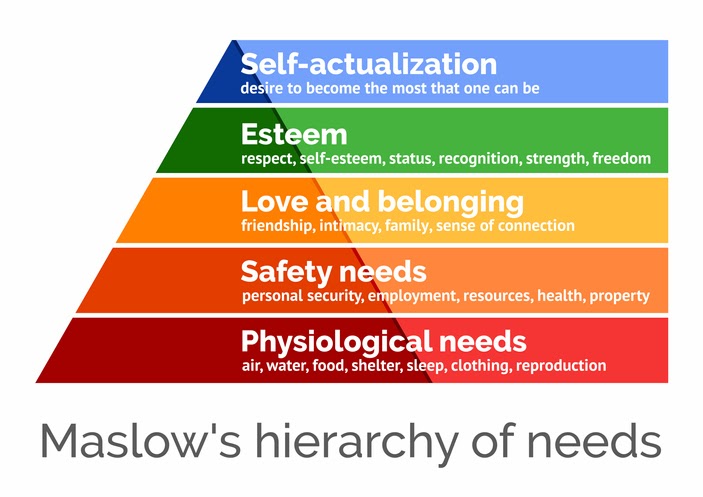 If any level is not met, a person becomes more susceptible to mental health issues, low self-confidence, poor perceptions of self-worth, and diminished well-being overall.
By creating a comfortable place for employees to gather, share food and connect, you're showing appreciation by recognizing their value as human beings rather than just "workers."
3 Trends To Inspire Employee Appreciation Ideas
To be impactful, your acts of appreciation must be genuine and meaningful to your employees. Things have changed since the onset of COVID-19, so re-evaluate their wants and needs.
Here are three interesting trends to help inspire ideas:
Trend #1: Glassdoor surveyed over 1,100 employed U.S. adults and found that almost 75% of homebound workers are eager to get back to the office, citing socialization and in-person work collaboration as the top factors motivating their opinion.
Trend #2: According to Healthline, 61% of U.S. adults report undesired weight changes since the pandemic began, attributing the changes to stress, lack of exercise, unhealthy eating habits and increased alcohol consumption.
Trend #3: Forty-seven percent of consumers admit that they are drinking more coffee now than they did before COVID-19.
Tips For Your Breakroom Redesign
What better way to show that you understand your employees' needs for socialization, healthier food options, and, of course, coffee? All signs point to a breakroom redesign!
When done with safety in mind, a well-designed breakroom supports every level of Maslow's pyramid and addresses some of the top trends driving employee lifestyles and preferences.
Give The Gift of a Coffee Shop Experience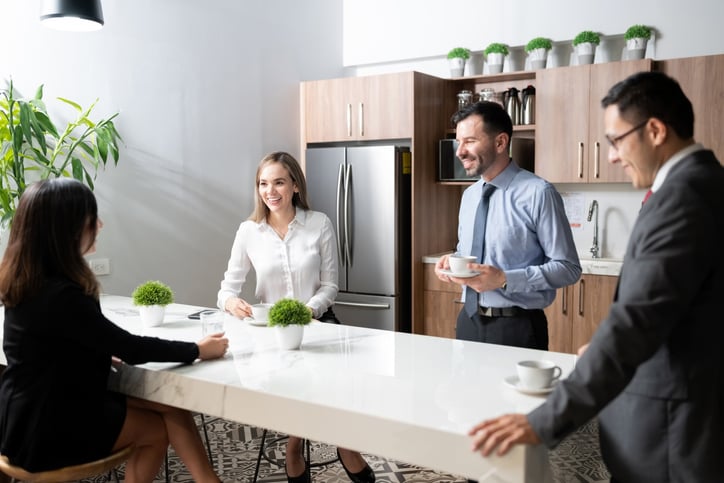 Improving your employees' routine coffee break is a great way to make the daily grind a little more convenient and enjoyable.
Keurig-brand coffee makers are well-known for quality and use individually-packaged coffee, tea, and beverage "pods" that appeal to all drink preferences. Plus, they allow employees to make their coffee or beverage their way.
Be sure to include an assortment of delicious coffee and beverage flavors and other accouterments to enhance the office coffee break experience.
Update Breakroom Appliances
To help employees feel safe using the breakroom, implement an aggressive cleaning and sanitization schedule and look for ways to reduce high-touch surfaces, such as investing in hands-free soap dispensers, faucets and receptacles.
For appliances that require touch, opt for easy-to-clean touchscreens and nonporous surfaces that do not absorb bacteria or germs.
Stock Up On Healthy Snacks
An investment in someone's health and safety is one of the most meaningful employee appreciation gifts you can give. To that end, think of ways to replace not-so-nutritious snacks with healthier options that you know employees will love.
For example, fill the fridge with a variety of LaCroix sparkling water or Hint water flavors in place of pop and energy drinks. And replace chips and morning muffins with healthier snacks, such as Skinny Pop popcorn and Nature's Bakery organic breakfast bars.
Even though vaccinations continue to reduce spread, it's still a good idea to avoid food sharing, so look for individually packaged snacks. Better yet, avoid the Costco shopping fiasco altogether and sign up for office snack delivery online.
Incorporate Homestyle Decor
Despite a strong desire to return to the office, employees are likely to miss the comforts of home. Another way to entice employees to use the breakroom is by incorporating more homestyle furniture and decor.
Most people envision traditional tables and chairs when they think of an employee breakroom, but adding a couch or armchair and ottoman arrangement is a unique way to make the area feel more cozy and casual, which will encourage socialization.
Just be sure to select high-quality furniture that makes sense for the space. Unlike your furniture at home, these couches and chairs will be used by a variety of people on a more frequent basis.
You'll want to make sure that the investment can hold up to wear and tear and, most importantly, can be cleaned regularly. We suggest checking out modular-style furniture with leather or faux leather finishes.
Up The Employee Appreciation Ante
Beyond the breakroom, there are dozens of employee appreciation gifts you can give to make sure your staff feels recognized and appreciated. Think about what employees need the most right now and let that be your guide to giving.
Curious about what your colleagues are doing to return to work safely while creating the best environment for their employees? Get the results of our recent Return-to-Work survey, along with tips for creating an even better workplace in 2021.